Submitted by
Nancy Smith
on December 12, 2018 - 10:02am
Barely a month after losing the Florida gubernatorial election, then losing again during the recount, Andrew Gillum looks as if he's trying to kick off a 2020 presidential run. Last week, he met with Washington Democrats in an effort to continue his career politician legacy. And Tuesday he gave a speech to 300 Democratic D.C. donors.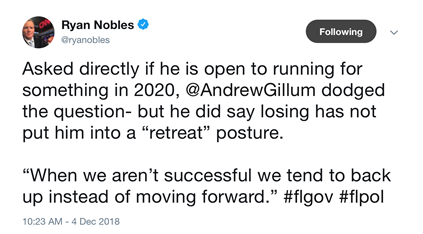 Comments are now closed.
U.S. Sen. Marco Rubio, R-Florida, released a statement Tuesday after voting against the Agriculture Improvement Act of 2018 (the 2018 Farm Bill):
"The farm bill released late last night fails to do what is necessary to protect farmers, working families, and taxpayers," Rubio said. "The conference committee had an opportunity to take the best provisions from both the Senate and House farm bills, but instead it appears to have combined the worst elements into legislation that I simply cannot support. 
Comments are now closed.
Gov. Rick Scott announced Friday that state offices will be closed on Christmas Eve and New Year's Eve "in recognition of state employees' hard work throughout the year, including the response and recovery from Hurricane Michael." 
Comments are now closed.
Gov.-elect Ron DeSantis and Lt. Gov.-elect Jeanette Nuñez today announced their upcoming Thank You Tour with rally stops planned across the state. 
The tour will begin with the first in a series of events on Saturday, Dec. 8, with rally stops in New Port Richey (Pasco County), The Villages (Sumter County) and Port Orange (Volusia County). DeSantis will be joined by Attorney General-elect Ashley Moody in New Port Richey and The Villages.
Comments are now closed.
Should Florida's secretary of state be elected? Sen. Aaron Bean still thinks so.
Comments are now closed.
In a press statement released Thursday, VISIT FLORIDA announced that Ken Lawson, the agency's president and CEO, has been named to the 2018 EBONY Power 100.
Comments are now closed.
Governor-elect Ron DeSantis' Transition team announced Monday the launch of the official transition website: DeSantisTransition.com. 
The transition website, which is now live, features an application portal for those interested in working for the DeSantis Administration to submit resumes and apply for jobs within the administration.
 
The website also features a contact submission page for scheduling requests, as well as a landing page for media inquiries and the latest press releases.
Comments are now closed.
Matt Caldwell, candidate for Commissioner of Agriculture, will not pursue further legal challenges to the 2018 election result that gave Nikki Fried a narrow victory. He issued the following statement Monday:
Comments are now closed.
Florida's ongoing vote recount was further complicated Thursday when Tallahassee U.S. District Court Judge Mark Walker ruled that some 4,000 voters whose mail-in ballots were rejected due to incompatible signatures will have until Saturday to correct their ballots.
Comments are now closed.
The secretary of state and 15 elections supervisors are being sued in U.S. District Court in Tallahassee allegedly to make sure they preserve digital ballot images created by voting machines during the Nov. 6 elections. Preserving those images are required by law.
Comments are now closed.
Pages