October 31, 2017 - 6:00am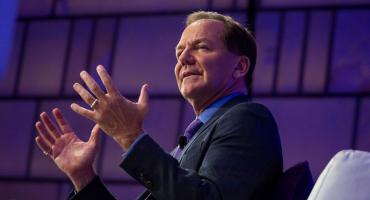 Paul Tudor Jones
What kind of wild world has just been revealed? 
South Florida investigative reporter Jose Lambiet, in his Sunday edition of Gossip Extra, exposed the character of Everglades Foundation founder and benefactor Paul Tudor Jones. Not a pretty picture. And don't think for a moment Jones isn't influencing the lives of every single Floridian -- or, at least trying to. But more about that later.
While we've known for years the billionaire hedge fund manager milked the environmental movement like a Guernsey udder, Lambiet's story shed a light on something Jones has been able to downplay for who-knows-how-long -- something even his admirers wouldn't guess:
His incredibly low view of women, as shown on this page in a CNN clip of a 2013 University of Virginia symposium he participated in; and 
His high tolerance of buddy-billionaire movie producer and severally-accused sexual abuser Harvey Weinstein, in his role as a board member of the Weintein Company.
Weinstein, his accusers say, built his long history of abusing women on a risky gamble that worked for him over and over -- the assumption that money or threats could buy women's silence on a subject so intimate and painful that most would prefer not to go public anyway. 
Only now the floodgates are open. Weinstein's accusers are pouring out, roaring out, speaking up, emboldening other women to talk about their experience under the thumb of powerful men. 
In case you don't want to look at the videotaped CNN report -- this is the meat of it in Jones' own words:
"You will never see as many great women investors or traders as men. Period. End of story," Jones said at the University of Virginia's McIntire School of Commerce. in 2013. "The idea that you could think straight for 60 seconds and be able to make a rational decision is impossible, particularly when their kids are involved."
Here's how Jones, 62, described his experience working with two women in the 1970s who he claims stopped focusing on their careers after they had children:
"As soon as that baby's lips touched that girl's bosom, forget it. Every single investment idea, every desire to understand what's going to make this go up or go down is going to be overwhelmed by the most beautiful experience which a man will never share about a mode of connection between that mother and that baby."
Lambiet says the  above upsetting put-down of female colleagues is what helped prompt a group of about 40 women to protest Weinstein and Jones Oct. 21 when Jones hosted  a Florida Atlantic University symposium -- that, plus Jones' slow-to-no reaction to the revelations about his predatory friend.
"Paul Tudor Jones is as bad as Weinstein for not publicly using his position to speak out against when he did," Jane Smalley, a Boca Raton Florida Atlantic University student, told Sunshine State News on Monday. Smalley said she didn't protest, but "I just want to see this world safe for women and right now we're a long way away."
Let's look at a timeline of Jones' reaction to the "outings" of Harvey Weinstein's misdeeds:
Oct. 5: The New York Times breaks the story of Harvey Weinstein's alleged serial sexual harassment. 
Oct. 6: The New York Times reports three of the board members of the Weinstein company resigned in disgust; Jones was not among them. Four board members sign a statement; Jones was not among them. 
Oct. 10: Bloomberg reports Jones resigned from the board of the Weinstein Company AND we learn Jones had allowed Weinstein to sit on the board of the glitzy non-profit he founded,  the Robin Hood Foundation. The two hung out on each other's boards all week, and didn't resign until the weekend -- on the same day. Did they have to talk it over together?
Oct. 11: The New York Times reveals, even though the Weinstein Board claimed it didn't know about the abuse, it absolutely knew about Weinstein's settlements with his accusers. (Not that it mattered to Jones, who wasn't the first, second, third or even fourth to resign from the board.  He was last.)
As Lambiet points out, "In the new era ushered in by movie-maker Weinstein's sex-for-acting-roles scandal and the #metoo and #womendeserverespect grass roots movements, Paul Tudor Jones isn't coming across as the squeaky-clean benevolent environmentalist do-gooder he's been made out to be."
And if you're wondering what Jones and his attitudes toward women and sexual harassment have to do with anything outside the Everglades Foundation and his South Florida base, I can tell you in six words: Influence and money in the Capitol.
Jones, the 144th richest American with a fortune estimated at $4.6 billion, wields power in Tallahassee. He works at owning a piece of the people who drive business in our Legislature. 
The man who ratified Weinstein's contract with the compay, allowing the CEO to request massages from actresses who were meeting him for work for as long as the filmmaker paid out of his own pocket for judgments and legal costs if he got sued -- that's the man who rains money on Florida's top lawmakers.
And it's why it should matter to all of us what he thinks.
Below are the donations over the past two years from Paul Tudor Jones to Florida legislators or the politcal committees they control:
Florida Leadership Committee - $50,000 on 8/29/17 – (Jack Latvala)
Floridians for Economic Freedom - $10,000 - 7/31/17 – (Chris Sprowls)
Rebuild Florida - $5,000 – 7/11/17 - (Jose Diaz)
Watchdog PAC - $50,000 – 6/30/17 - (Richard Corcoran)
Florida Republican Senatorial Campaign - $50,000 - 10/3/16 - (Joe Negron)
Florida Leadership Committee - $35,000 - 8/23/16 - (Jack Latvala)
For A Better Florida Political Committee - $10,000 - 6/24/16 - (Heather Fitzenhagen)
Harrell, Gayle - $1,000 - 1/13/16 - (individual)
Altman, Thad - $1,000 - 1/12/16 - (individual)
Florida Republican Senatorial Campaign - $50,000 - 1/11/16 - (Joe Negron)
The Conservative - $25,000 - 1/11/16 - (Tom Lee)
Florida Leadership Committee - $25,000 - 1/11/16 (Jack Latvala)
Florida Democratic Party - $25,000 - 1/11/16 - (state party)
Simmons, David - $1,000 - 1/11/16 - (individual)
Jobs for Florida - $10,000 - 1/8/16 - (Wilton Simpson)
Benacquisto, Lizbeth - $1,000 - 1/5/16 - (individual)
If my name were on this list, I would be like the Weinstein board members who resigned the first day. I would opt for the powerful message and send Jones' money back. But that's just me.
It seems appropriate now to connect the dots between Paul Tudor Jones, Harvey Weinstein, sexual harassment and the Legislature. Ethics again is front and center in Corcoran's House, and Senate President Joe Negron is trying to make rules for the reporting of sexual harassment in a chamber recently rocked by a sex scandal and the resignation of Minority Leader Jeff Clemens.
The reporting policy first was constructed to require Senate employees to file sexual harassment complaints with their direct supervisor, the Senate chief of staff or the Senate president.
Bad idea, Mr. President -- advantage, harrasser. And employees told Negron so over the weekend. 
In an internal memo sent Monday afternoon to senators and staff, Negron said, "I have spoken with Senators and Staff over the weekend and moving forward, we will revisit the policy with regard to sexual and workplace harassment to make it even more abundantly clear to employees that they can and should report sexual or workplace harassment to anyone they feel comfortable speaking with."
This is better, but I wish Negron were framing a policy made by a committee that included volunteer victims of sexual harassment in the workplace. It needs the input of people who've been there.
The best way I can explain it is to quote ABC news anchor Megyn Kelly from her recent interview on "Late Night with Seth Meyers." Kelly spoke plainly about sexual harassment during her days at FOX.  And what she had to say is central to the Senate's new reporting rules -- if, in fact, any "rules" are going to work. Here's an excerpt of what she had to say:
(Everyone wants an accuser to explain) "Why didn't you report it? The first question you need to ask is, 'was there a safe avenue for reporting?' Only if the answer was yes do you get to ask the question. The answer at my workplace for years was 'no,' because HR was controlled by the CEO who was harrassing half of the women in the building.
"So it was not a meaningful outlet. And even if it had been, and I've spoken to so many women about this, they're afraid, even if HR is a real option, it doesn't always go your way -- if you're going to take a shot at the king, you'd better kill him, ever hear this? If you don't win  this showdown, it isn't always obvious. At the next contract, maybe you're not so impressive as you once were ... you don't know if you're being let go because of your performance or because you reported sexual harassment."
Kelly believes sexual harassment won't end until there's an army to defeat it.  "We need more men, and women, in positions of power to stick up for us, not just in the work place, but in the bars at night, or when we're not there, or when they're looking at our (butts). In other words, as Negron says he wants, "zero tolerance."
These are important, changing times throughout American society. Who among these legislative leaders is going to stand up for what's right? Who will have the guts to send harassment enabler Paul Tudor Jones' money back and get the conversation started in earnest? 
Reach Nancy Smith at nsmith@sunshinestatenews.com or at 228-282-2423. Twitter: @NancyLBSmith