September 25, 2017 - 5:00pm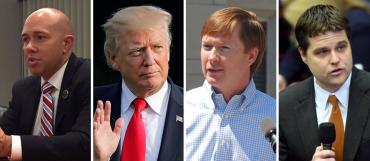 Brian Mast, Donald Trump, Adam Putnam and Matt Gaetz
Florida politicians are weighing in on the controversy surrounding NFL players kneeling in silent protest against the National Anthem -- and not all are happy with the sports stars' actions.
Dozens of NFL players took a knee when the "Star-Spangled Banner" played loudly at football games on Sunday following comments President Donald Trump made at a rally in Huntsville, Alabama Friday, criticizing football players as "unpatriotic" for kneeling during the national anthem.
"If a player wants the privilege of making millions of dollars in the NFL, or other leagues, he or she should not be allowed to disrespect our Great American Flag (or Country) and should stand for the National Anthem," Trump tweeted Saturday. "If not, YOU'RE FIRED. Find something else to do!"
Trump's comments sparked a wave of controversy over the weekend. Some Florida politicians were quick to give their opinion on the "#TakeAKnee" protest, slamming the football players for their actions 
U.S. Rep. Brian Mast, who served in Afghanistan as a member of the U.S. Army, criticized the NFL players in a Facebook post Monday afternoon.
"The NFL doles out penalties for celebrating a touchdown, but won't require respect for our flag?" Mast wrote. "I have taken a knee after jumping out of a helicopter as we looked for the enemy, taken a knee in front of the Soldiers Cross as we mourned a fallen brother and taken a knee in church."
Mast added that any player who has taken a knee to protest during the national anthem "should already be gone."
"To all my brothers and sisters still serving overseas: we stand with you!" he wrote.
U.S. Rep. Matt Gaetz, R-Fla., also appeared to give his opinion on the controversy through a retweet of a tweet from President Trump Monday morning.
"#StandForOurAnthem," the tweet read. 
On the Florida gubernatorial front, GOP candidate and Florida Commissioner of Agriculture Adam Putnam supported the president, agreeing that NFL players should stand as the anthem is played.
"I agree with President Trump that professional athletes should stand for our National Anthem," Putnam tweeted.
Fellow GOP gubernatorial candidate and state Sen. Jack Latvala, R-Clearwater, also shared his thoughts on the protest.
"A year ago, long before I became a candidate for Governor I called out the Bucs receiver who knelt for the national anthem," he wrote on Facebook. "This is not a new issue for me and my attitude has not changed. Thankfully we still have players like Alejandro Villanueva who stood up for our country on the battlefield and stood up for our flag today!" 
 
Democratic gubernatorial candidates Andrew Gillum and Chris King both weighed in on the controversy on Monday. 
"Woolworth's. Marches. Sitting on the bus. Taking a knee. It's never been popular - but it has been right," Gillum tweeted. 
"Peaceful protest in the pursuit of justice is fundamentally American and an act of patriotism," King told Sunshine State News.
Reach reporter Allison Nielsen by email at allison@sunshinestatenews.com or follow her on Twitter: @AllisonNielsen.
---