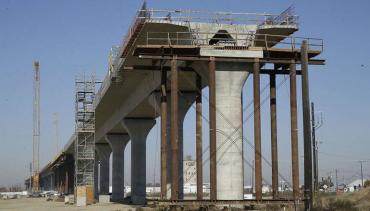 California's bullet train: Going where?
Congressmen assessing All Aboard Florida and Brightline in Florida might want to keep their eyes on California's deeply troubled high-speed rail project in California.
In fact, so might Florida legislators.
The U.S. government has initiated an audit of California's over-budget, behind-schedule bullet train as costs continue to climb.
Since 2009, Congress has appropriated more than $10 billion for high-speed intercity passenger rail, with $8.6 billion disbursed as of the end of 2017. Almost 39 percent of that money has been dedicated to the California high-speed rail project.
The inspector general's audit will examine the Federal Railroad Administration's oversight of nearly $3.5 billion in federal grant money awarded to the project.
Inspector General of the U.S. Department of Transportation Calvin L. Scovel III has a "tough cookie" reputation around Washington. He was in the Pentagon on 9/11, served as assistant judge advocate general of the Navy for military justice, was principal advisor to the secretary of the Navy, and was the judge advocate general on all criminal justice policy matters.
Scovel is charged with providing "independent and objective reviews of the efficiency and effectiveness of Department of Transportation operations and programs."
His office investigates bid-rigging, conflict of interest, disadvantaged business fraud, kickbacks, materials overcharging, product substitutions, quality control testing fraud, time overcharging, bribery and general fraud.
The idea of the passenger service originally was to transport travelers between Los Angeles and San Francisco in less than three hours.
A business plan released in March shows the state does not have the roughly $30 billion it needs to complete the first phase of the project between the Central Valley and San Francisco. The entire project, meanwhile, is expected to cost $77 billion. State auditors are also conducting a review.
Meanwhile in Florida, though All Aboard Florida/Brightline's Miami-to-Orlando high-speed rail project isn't entirely similar to California's, Brightline President Patrick Goddard and U.S. Department of Transportation official Grover Burthey have had a job trying to show the Florida project is all-private when it's using federal tax-exempt Private Activity Bonds in the construction.
At a hearing in April before the House Subcommittee on Government Operations, Chairman Mark Meadows, a North Carolina Republican -- perhaps with California's project in the back of his mind -- made it clear members believed the Brightline deal should never have been approved.
It's still up in the air whether Brightline will be able 1) to issue the Private Activity Bonds as authorized by the federal Department of Transportation, 2) be forced to abandon the PAB financing try and seek the similarly problematic Railroad Rehabilitation and Improvement Financing, or 3) go for the last resort -- expensive conventional financing to pay for the track upgrades and extension needed.
The California audit ... bad timing for Brightline.
Reach Nancy Smith at nsmith@sunshinesatenews.com or at 228-282-2423. Twitter: @NancyLBSmith
---
READ MORE FROM SUNSHINE STATE NEWS
Treasure Coast Leaders Fighting Brightline Will Testify In D.C. Thursday