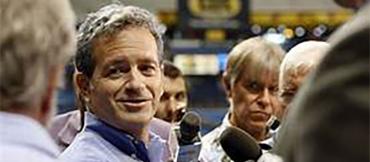 Stu Sternberg: What is the opposite of "beloved"?
Two months ago the attendance-challenged Tampa Bay Rays could at least boast of a fiercely loyal, though modest, fan base.
No more, thanks to Rays owner Stu Sternberg, striking out with a far-out proposal to play half a season in Tampa Bay and the other half in Montreal where Major League Baseball failed 15 years ago. That franchise moved to Washington, D.C. and thrives today.
MLB commissioner Rob Manfred made the announcement in June, at the end of the two-day owners' meetings in New York. National sports media reports of the scheme ranged from comic to desperate.
The two-city proposal infuriated Rays fans. Social media and online polls chronicle the discontent and accusations of betrayal hurled at the owner. One could form a conga line to Montreal and back with the disappointed and dispirited.
Around the time of the Montreal announcement, the Rays averaged 40,000 in a midweek series against the Yankees. In a subsequent weekend series versus the same Yanks, attendance averaged less than 22,000.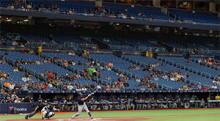 Also in June, the Rays offered $5 tickets -- yes, $5 a seat -- for five home games but was able to sell out only two of them. The
humiliation was reported nationally
.
The fallout doesn't end there. Sunshine State News has learned the City of St. Petersburg continues to investigate whether Sternberg violated the terms of his lease agreement, which decrees he must get permission to discuss relocation with representatives of other geographical entities.
To many observers, there is no question Sternberg talked with government officials up in Canada. Proving that is another matter. He has acknowledged speaking with Stephen Bronfman, billionaire heir to the Seagram Company fortune.
Canadian Bronfman has the wealth and wherewithal to purchase the Rays and build a stadium in Montreal independent of public financing. The snag is the Tropicana Field lease which runs through 2027. But Bronfman has the capability of buying his way out of it.
The Rays play home games at St. Petersburg's homey, if not obsolete, Tropicana Field. Sternberg has been attempting to finagle a new stadium, either in Tampa or St. Pete, on the taxpayers' dime -- actually, billions of them. The split season with Montreal is seen by some as a lame attempt by Sternberg to wheedle approximately $650 million from local government for an $800 million-plus playpen.
An attempt last year for a Rays relocation to a new stadium in Ybor City failed when Hillsborough County and the City of Tampa could not figure out a way to pay for the project.
As a former hedge fund manager, Sternberg (net worth $800 million) built his wealth on his acumen and using other people's money.  That philosophy has persisted in Sternberg's second life as a sports franchise owner. He spends less than any other MLB team on payroll. Even if one considers payroll as a percentage of revenue, the Rays at 35 percent rank fifth from the bottom.
The Rays benefit from revenue-sharing, collecting from a financial honey pot supplied by big market teams. A portion of that windfall is supposed to be earmarked for payroll, but the Rays were one of four teams cited last year by the players' union as violating the sport's collective bargaining agreement.
Ever since Sternberg's bombshell fell with a giant thud, politicians and players have weighed in, same as Rays fans. St. Pete Mayor Rick Kriseman did not disguise his disdain.
"The Rays cannot explore playing any Major League Baseball games in Montreal or anywhere else for that matter prior to 2028, without reaching a formal memorandum of understanding with the City of St. Petersburg," he said in a statement. "Ultimately, such a decision is up to me. And I have no intention of bringing this latest idea to our City Council to consider. In fact, I believe this is getting a bit silly."
Kriseman and Sternberg subsequently had a private confab with no substantive progress. The mayor reportedly stuck to his position that the two-city proposal remains an unsatisfactory solution to Rays attendance woes.
Rays players were surprised by the Montreal announcement with some saying that such an arrangement would be tough on their families. The MLB Players' Association and the owners disagree about whether platooning two cities is subject to baseball's collective bargaining agreement. The union maintains the Rays need its permission to play roughly half the season in Montreal.
The only entity not snickering at or rejecting Sternberg's two-city proposal out of hand is the St. Petersburg Chamber of Commerce. In a letter to St. Pete city officials, the Chamber urged them "to keep an open mind."
The two-city furor hasn't deterred the Rays front office from making deals to bolster its effort to capture an American League wild card slot. Jesus Aguilar, a solid right-handed bat was added before Wednesday's 4 p.m. trade deadline. Also, desperately in need of pitching due to injuries, the Rays acquired starter Trevor Richards and reliever Nick Anderson from the Florida Marlins. 
That's at least something.
Jim Bleyer, a former reporter at the Orlando Sentinel and Tampa Tribune, writes the Tampa Bay Beat blog.