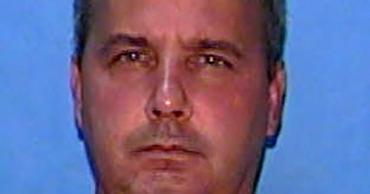 Gary Ray Bowles
Barring a late legal reprieve, Gary Ray Bowles is slated Thursday to become the second Death Row inmate executed since Gov. Ron DeSantis took office in January.
In both cases, DeSantis has targeted men convicted of committing multiple murders.
In May, the state put to death Bobby Joe Long, who was sentenced to death in the May 1984 murder of Michelle Simms after picking her up on Kennedy Boulevard in Tampa. In 1985. Long also pleaded guilty to seven additional first-degree murder charges and numerous charges for sexual batteries and kidnappings in the Tampa Bay region.
Bowles' death warrant, meanwhile, stems from the November 1994 murder of Walter Hinton, who was found dead in his Jacksonville mobile home. Bowles also is serving life sentences for the 1994 murders of John Roberts in Volusia County and Albert Morris in Nassau County. In addition, Bowles confessed to murdering men in Georgia and Maryland, with evidence suggesting he targeted gay men, according to information released by the governor's office.
Grisly details of the Hinton murder were recounted in a Florida Supreme Court opinion rejecting a request by Bowles' attorneys to block Thursday's execution at Florida State Prison.
"Bowles confessed and pleaded guilty to the 1994 murder of Walter Hinton, who had allowed Bowles to move into his home in exchange for Bowles' help in moving personal items. Specifically, Bowles dropped a concrete block on Hinton's head while Hinton was sleeping, then manually strangled a conscious Hinton, and subsequently 'stuffed toilet paper into Hinton's throat and placed a rag into his mouth,' " the opinion said, partially quoting an earlier court ruling.
MONDAY, AUGUST 19, 2019
ALZHEIMER'S DISEASE AT ISSUE: The state Alzheimer's Disease Advisory Committee will hold a conference call. (Monday, 9 a.m. Call-in number: 1-888-585-9008. Code: 600513360.)
ORANGE COUNTY DELEGATION MEETS: The Orange County legislative delegation will meet as it prepares for the 2020 legislative session. The delegation will hear from government officials and representatives of government agencies during the morning and members of the public and community-related entities during the afternoon. (Monday, 9:30 a.m. and 2 p.m., Orange County Administration Center, commission chamber, 201 South Rosalind Ave., Orlando.)
FAMU IMPASSE ON AGENDA: Representatives of the union AFSCME Local 3343, Florida A&M University officials and a special magistrate are expected to hold a hearing about an impasse on issues including a pay increase for university workers. (Monday, 10 a.m., Florida A&M University, Foote-Hilyer Administration Center, 1700 Lee Hall Dr., Tallahassee.)
JUSTICE SYSTEM DISCUSSED: A coalition of churches and other organizations will hold a news conference to discuss "restorative justice" as an alternative to a more-punitive criminal justice system. (Monday, 11 a.m., Florida Press Center, 336 East College Ave., Tallahassee.)
VETERANS ISSUES ON TABLE: U.S. Rep. Charlie Crist, D-Fla., and U.S. Rep. Gus Bilirakis, R-Fla., will hold a joint meeting of their veterans advisory boards. (Monday, 1 p.m., Dunedin Public Library, 223 Douglas Ave., Dunedin.)
RESTORATION OF VOTING RIGHTS AT ISSUE: The newly created Restoration of Voting Rights Work Group will meet and discuss issues related to a constitutional amendment that requires restoring voting rights for felons who have completed terms of their sentences. (Monday, 2 p.m., 212 Knott Building, the Capitol. Call-in number: 1-888-585-9008. Code: 6594590777.)
USF TRUSTEES TAKE UP LEGISLATIVE REQUEST: The University of South Florida Board of Trustees will hold a conference call that will include discussion of a 2020-2021 legislative budget request and the 2019-2020 operating budget. (Monday, 2:30 p.m.)
TUESDAY, AUGUST 20, 2019
BERMAN, SILVERS HOLD COFFEE TALK: Sen. Lori Berman, D-Lantana, and Rep. David Silvers, D-Lake Clarke Shores, will hold a "coffee talk" with constituents. (Tuesday, 8 a.m. to 10 a.m., Lake Clarke Shores Town Hall, 1701 Barbados Road, Lake Clarke Shores.)
UTILITY PLANS AT ISSUE: Staff members of the Florida Public Service Commission will hold a workshop about draft rules that would help carry out a new law dealing with utility storm-protection plans. The law, in part, could lead to more underground power lines. Utilities already have underground power lines in some areas. But a key part of the bill would change the way underground power-line projects are financed, a change that could lead to more projects --- but also higher bills for utility customers. Generally, utilities incorporate storm-hardening costs in their base electric rates, which are set for multiple years. The Public Service Commission goes through months-long processes to determine base rates, looking at financial and technical issues that involve numerous parts of utility operations. But the new law created a separate Public Service Commission process that will allow utilities each year to seek to collect money from customers for storm-protection projects, such as building underground power lines. (Tuesday, 9:30 a.m., Betty Easley Conference Center, 4075 Esplanade Way, Tallahassee.)
HUMAN TRAFFICKING DISCUSSED: The South Florida Human Trafficking Task Force will host a National Human Trafficking Hotline event. (Tuesday, 10 a.m., Johnson &Wales University, Bobcat Center Ballroom, 1701 N.E. 127th Street, North Miami.)
'CAT' FUND DISCUSSSED: The Florida Hurricane Catastrophe Fund Advisory Council is scheduled to hold a conference call. (Tuesday, 11 a.m. Call-in number: 1-888-585-9008. Code: 973664296.)
FORESTRY ISSUES ON TABLE: The Florida Forestry Council will meet in the Panhandle, with the agenda including issues for the 2020 legislative session. (Tuesday, 1 p.m. Central time, Sandestin Golf and Beach Resort, 9300 Emerald Coast Parkway West, Miramar Beach.)
GREGORY HOLDS TOWN HALL: State Rep. Tommy Gregory, R-Sarasota, will hold one in a series of town hall meetings to discuss issues with constituents. (Tuesday, 6:30 p.m., Goodwill headquarters, 2705 51st Ave. East, Bradenton.)
TRANSPORTATION ISSUES DISCUSSED: State Rep. Javier Fernandez, D-South Miami, will help host a town hall event about transportation issues. (Tuesday, 7 p.m., 3443 Segovia St., Coral Gables.)
WEDNESDAY, AUGUST 21, 2019
CABINET AIDES MEET: Aides to Gov. Ron DeSantis, Attorney General Ashley Moody, Agriculture Commissioner Nikki Fried and state Chief Financial Officer Jimmy Patronis will meet to discuss issues in advance of an Aug. 27 Cabinet meeting. (Wednesday, 9 a.m., Cabinet meeting room, the Capitol.)
BOARD OF EDUCATION MEETS: The State Board of Education will meet in Broward County, with issues expected to include 2020-2021 legislative budget requests. (Wednesday, 9 a.m., Broward College, 111 East Las Olas Blvd., Suite 1208, Fort Lauderdale.)
PANHANDLE PARK AT ISSUE: The Topsail Hill Preserve State Park Advisory Group will hold a meeting about a management plan for Topsail Hill Preserve State Park in Northwest Florida. (Wednesday, 9 a.m. Central time, Walton County Courthouse Annex, 31 Coastal Centre Blvd., Santa Rosa Beach.)
UNEMPLOYMENT CASES CONSIDERED: The state Reemployment Assistance Appeals Commission will meet. (Wednesday, 9:30 a.m., Reemployment Assistance Appeals Commission, 101 Rhyne Building, 2740 Centerview Dr., Tallahassee.)
RUBIO SPEAKS IN PALM BEACH COUNTY: U.S. Sen. Marco Rubio, R-Fla., will speak to the Forum Club of the Palm Beaches. (Wednesday, noon, Kravis Center for the Performing Arts, Cohen Pavilion, 701 Okeechobee Blvd., West Palm Beach.)
THURSDAY, AUGUST 22, 2019
TRANSGENDER INMATE CASE HEARD: The 11th U.S. Circuit Court of Appeals will hear arguments in a legal battle about the Florida Department of Corrections' handling of a transgender inmate. The Department of Corrections appealed after Chief U.S. District Judge Mark Walker last year ruled in favor of inmate Reiyn Keohane, who was born a male but began identifying as a female as a child. Keohane, who was sentenced in 2014 to 15 years in prison for attempted second-degree murder, is an inmate at the Wakulla Correctional Institution Annex, an all-male facility. The lawsuit alleged, in part, that Keohane was not allowed to wear women's undergarments and have access to grooming items available to female inmates. Keohane was allowed to resume hormone treatments after filing the lawsuit in 2016. In his ruling last year, Walker blasted the Department of Corrections for its treatment of Keohane, who was diagnosed with "gender dysphoria" as a teen. "Defendant's deliberate denial of care --- that is, the denial of access to female clothing and grooming standards despite its knowledge of her diagnosis and her history of self-harm --- has caused Ms. Keohane to continue to suffer unnecessarily and poses a substantial risk of harm to her health," he wrote. But in a brief filed at the Atlanta-based appeals court, the Department of Corrections said it has made proper accommodations, such as providing mental-health counseling, issuing Keohane a bra and allowing her to shower separately from male inmates. "The record in this case establishes that FDC (the department), far from being indifferent to Keohane's medical need, has affirmatively treated her medical need with appropriate and well-recognized treatments," the brief said. (Thursday, 9 a.m., Frank M. Johnson Jr. United States Courthouse, 1 Church St., Montgomery, Ala.)
NORTHWEST FLORIDA WATER BOARD MEETS: The Northwest Florida Water Management District Governing Board will meet after holding an Asset Management Committee meeting. (Thursday, committee meeting at 9:30 a.m. Central time, full board at 1 p.m. Central time, Emerald Coast Utilities Authority, 9255 Sturdevant St., Pensacola.)
ASSAULT WEAPONS BAN AT ISSUE: The Financial Impact Estimating Conference will hold a workshop on potential financial impacts of a proposed constitutional amendment that would ban possession of assault-style weapons in Florida. The political committee Ban Assault Weapons Now is trying to get the issue on the November 2020 ballot. The assault-weapons issue has long been controversial, but Florida lawmakers have repeatedly rejected calls from gun-control activists to impose a ban. The ballot proposal would define assault weapons as "semiautomatic rifles and shotguns capable of holding more than 10 rounds of ammunition at once, either in fixed or detachable magazine, or any other ammunition-feeding device." (Thursday, 10 a.m., 117 Knott Building, the Capitol.)
FLORIDA COMMUNITIES TRUST DISCUSSED: The Florida Communities Trust Governing Board is scheduled to meet. (Thursday, 10 a.m., Florida Department of Environmental Protection, Douglas Building, 3900 Commonwealth Blvd., Tallahassee.)
BOWLES TO BE EXECUTED: Death Row inmate Gary Ray Bowles is scheduled to be executed in the November 1994 murder of Walter Hinton in a Jacksonville mobile home. Bowles also is serving life sentences in the 1994 murders of John Roberts in Volusia County and Albert Morris in Nassau County. A death warrant signed in June by Gov. Ron DeSantis, however, is for the murder of Hinton. Court documents said Bowles brutally killed Hinton during a robbery. A memorandum released by the governor's office said Bowles also confessed to murdering men in Georgia and Maryland and that evidence suggested he targeted gay men. (Thursday, 6 p.m., Florida State Prison, 23916 N.W. 83rd Ave., Raiford.)
PANHANDLE PARK AT ISSUE: The Florida Department of Environmental Protection's Division of Recreation and Parks will hold a meeting about a management plan for Topsail Hill Preserve State Park in Northwest Florida. (Thursday, 6 p.m. Central time, Northwest Florida State College, South Walton Campus, 109 Greenway Trail, Santa Rosa Beach.)
PIZZO, BESHEARS DISCUSS CONDOS: Sen. Jason Pizzo, D-North Miami Beach, and Florida Department of Business and Professional Regulation Secretary Halsey Beshears will hold a town-hall meeting to discuss condominium issues. (Thursday, 6:30 p.m., Aventura Government Center, 19200 West Country Club Dr., Aventura.)
NORTH CENTRAL PLANNING COUNCIL MEETS: The North Central Florida Regional Planning Council will meet in Columbia County. (Thursday, 7 p.m., Holiday Inn Hotel and Suites, 213 S.W. Commerce Blvd., Lake City.)
FRIDAY, AUGUST 23, 2019
DENTAL BOARD MEETS: The Florida Board of Dentistry will meet in Duval County. (Friday, 7:30 a.m., Omni Jacksonville Hotel, 245 Water St., Jacksonville.)
CITIZENSHIP ISSUE ANALYZED: The Financial Impact Estimating Conference will discuss potential financial impacts of a proposed constitutional amendment about the citizenship of voters. The political committee Florida Citizen Voters is seeking to place the proposal on the November 2020 ballot. The proposal would change part of the state Constitution that now says, "Every citizen of the United States who is at least eighteen years of age and who is a permanent resident of the state, if registered as provided by law, shall be an elector of the county where registered." The proposal would change that wording to: "Only a citizen of the United States who is at least eighteen years of age and who is a permanent resident of the state, if registered as provided by law, shall be an elector of the county where registered." (Friday, 8:30 a.m., 117 Knott Building, the Capitol.)
CHIROPRACTIC BOARD MEETS: The Florida Board of Chiropractic Medicine will meet in Orange County. (Friday, 8:30 a.m., Hyatt Regency, 9801 International Dr., Orlando.)
VISIT FLORIDA PANEL HOLDS CALL: The Visit Florida Executive Committee will review the agenda for a Sept. 4 Board of Directors meeting. (Friday, 10 a.m. Call-in number: 1- 888-475-4499. Code: 2780245814.)
CHILDREN'S ISSUES ON TABLE: The Florida Children and Youth Cabinet will discuss children's issues. (Friday, 10:30 a.m. Call-in number: 1-888-585-9008. Code: 472450272.)
SENIOR SCAMS TARGETED: The Florida Department of Financial Services will hold one in a series of "Be Scam Smart" workshops to help seniors avoid financial scams. (Friday, 11 a.m., Trenton Senior Center, 1439 County Road 307A, Trenton.)
PRIMARY ELECTIONS PROPOSAL EYED: The Financial Impact Estimating Conference will discuss potential financial impacts of a proposed constitutional amendment that would revamp state primary elections. The political committee All Voters Vote is seeking to put the proposal on the November 2020 ballot.  Under the proposal, all registered voters would be able to cast ballots in primaries, regardless of political affiliation. The two candidates getting the most votes in each primary would advance to the general election. (Friday, 1:30 p.m., 117 Knott Building, the Capitol.)
GREGORY HOLDS TOWN HALL: State Rep. Tommy Gregory, R-Sarasota, will hold one in a series of town hall meetings to discuss issues with constituents. (Friday, 6 p.m., Parrish YMCA, 12214 U.S. 301, Parrish.)
SATURDAY, AUGUST 24, 2019
FINE HELPS DISTRIBUTE FOOD: State Rep. Randy Fine, R-Palm Bay, and Farm Share will hold a free food-distribution event in Brevard County. (Saturday, 10 a.m. to noon, Fine's office, 2539 Palm Bay Road N.E., Palm Bay.)