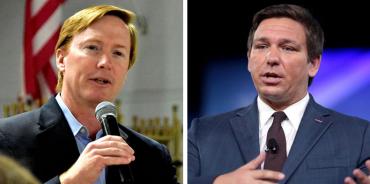 Adam Putnam and Ron DeSantis
For a while, Agriculture Commissioner Adam Putnam and Congressman Ron DeSantis were in danger of serious elbow injuries in a "who's the Trumpiest" contest that's part of their larger battle to capture the Republican nomination to succeed Gov. Rick Scott.
But it seems that Fox News darling DeSantis has captured the heart not only of President Donald Trump but perhaps the entire First Family.
The president's namesake, Donald Trump Jr., will be in the Sunshine State to stump for DeSantis next month, according to the congressman's campaign staff. The First Son will also give a Trump stamp of approval to DeSantis' fellow Fox fave, Panhandle Congressman Matt Gaetz, prior to Florida's August primary election.
DeSantis has been boasting for a while that he's garnered the endorsement of the president, who's more than once praised the Palm Coast Republican. But appearing onstage with the younger Trump will burnish the congressman's conservative credentials in his grudge match against Putnam.
The agriculture commissioner, meanwhile, remains ensnared in a controversy about Publix after reports last week that the supermarket company contributed more than $600,000 to Putnam's gubernatorial campaign over the past three years.
Gun-control advocates, who had already targeted Putnam for calling himself "a proud NRA sellout," quickly called for a boycott of Publix, while supporters of both the Lakeland-based company and Putnam encouraged shoppers to spend their time and money at the iconic grocery chain.
Election-season verbal backstabbing in Florida and throughout the nation prompts a pause for reflection on how a little kindness might offset the animosity that's become the norm.
"Constant kindness can accomplish much," the late, great humanitarian Albert Schweitzer advised. "As the sun makes ice melt, kindness causes misunderstanding, mistrust, and hostility to evaporate."
POWER COMPANY BULKS UP
Publix isn't the only Florida corporate behemoth in the news: Florida Power & Light's parent company, NextEra Energy Inc., announced this week it will buy Northwest Florida's Gulf Power as part of a $6.475 billion deal.
NextEra plans to buy Gulf Power, the Florida City Gas natural-gas company and ownership interests in two power plants from The Southern Company. The purchase of Gulf Power and the stakes in the power plants, which are subject to federal approval, are expected to close during the first half of 2019, while the Florida City Gas purchase is slated for the third quarter of 2018, according to a NextEra Energy announcement.
The deal would expand NextEra Energy's already-massive footprint in the state. Its Florida Power & Light subsidiary is by far the largest electric utility in Florida, serving nearly 5 million customers. Gulf Power, with about 450,000 customers in eight counties, is the largest utility in the Panhandle.
Florida City Gas has about 110,000 residential and commercial natural-gas customers in Miami-Dade, Brevard, St. Lucie and Indian River counties.
"These transactions will provide meaningful benefits for the state of Florida, and Gulf Power and Florida City Gas customers, as well as NextEra Energy shareholders," Jim Robo, chairman and chief executive officer of NextEra Energy, said in a prepared statement. "Importantly, these transactions are consistent with our long-standing, disciplined approach of maintaining the strength of our balance sheet and credit ratings, both of which are among the strongest in the industry."
PLEASE SIR, MAY I HAVE SOME MORE … PAGES?
In other regulatory news, state health officials heard a litany of warnings this week about potential flaws in a proposed medical marijuana rule.
A hearing about the proposed rule came more than seven months after a legislatively mandated Oct. 3 deadline for the Department of Health to issue new medical-marijuana licenses, in what could be one of the country's largest cannabis markets.
The proposed rule, released more than three weeks ago, set in motion the application process --- considered far behind schedule by many legislators --- for four highly sought-after licenses.
But the issues identified during a Thursday hearing signaled possible legal or administrative challenges that could further postpone the issuance of licenses.
Lawmakers ordered the new licenses after voters approved a 2016 constitutional amendment that broadly legalized marijuana as a treatment for patients with debilitating medical conditions.
The law requires one of the new licenses to go to a black farmer who was involved in federal litigation about discriminatory lending practices. And the statute requires health officials to give preference for up to two licenses to applicants that "own one or more facilities that are, or were, used for the canning, concentrating, or otherwise processing of citrus fruit or citrus molasses and will use or convert the facility or facilities for the processing of marijuana." The citrus preference is the subject of one of several marijuana-related court challenges.
During about an hour of public testimony Thursday, most of the complaints were focused on the citrus-related language in the proposed rule.
Lawyer Seann Frazier pointed out that the proposed regulation substituted the word "property" for "facilities," which, he said, "adds vagueness" and may broaden the language in the statute, something the agency is not permitted to do.
The proposed rule would give the two highest-scoring applicants who are eligible for the citrus preference an extra 35 points, in addition to a total of 1,150 possible points available to all applicants. The 35 extra points amount to just a 3 percent bonus, Frazier said.
"We respectfully suggest that more weight should be given to the citrus preference" to "avoid a situation where you issue licenses and no one really had a meaningful exercise of the preference," Frazier, who represents Tampa-based Louis del Favero Orchids, said.
Office of Medical Marijuana Use Director Christian Bax asked Frazier if he had a suggestion about how many points the citrus preference should be worth.
"I suggest it should be a lot higher preference, one that would make a difference that a citrus-qualifying applicant will actually receive a license," said Frazier, whose client is interested in seeking one of the citrus-preference licenses.
Other speakers complained that page limits imposed in the proposed rule could prevent applicants from providing necessary information, such as how many dispensaries they plan to open or information about human-resources policies.
Bax said the health department would take the concerns into consideration.
"If the department believes that a change needs to be made, then it will be made. If not, then we'll continue to move forward with this process," he said.
STORY OF THE WEEK: NextEra Energy, the parent company of Florida Power & Light, is buying Gulf Power as part of a $6.475 billion deal.
QUOTE OF THE WEEK: "If all New York has to do to prevent inmate misconduct and crime is gently remind them not to misbehave, one wonders why that state's prisons have fences and walls. Why not simply post signs reminding inmates not to escape? If New York wants to engage in a fantasy about convicted criminals behaving like model citizens while serving out their sentences, it is free to do so, but the Constitution does not require Florida to join New York in la-la-land." --- 11th U.S. Circuit Court of Appeals Chief Judge Ed Carnes, siding with Florida corrections officials in a lawsuit challenging the state's censorship of Prison Legal News. The publication is available to inmates in every state but Florida.