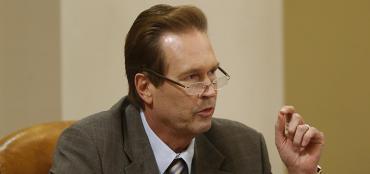 This week, U.S. Rep. Vern Buchanan, R-Fla., continued his efforts to showcase how the federal government continues to fight against red tide which continues to impact beaches in the Sunshine State. 
Buchanan visited Mote Marine Laboratory and Aquarium in Sarasota and weighed in on red tide's impact on Florida. 
 "People visit and move to Florida to enjoy our beautiful natural resources," said Buchanan.  "But the harmful effects of red tide kill sea life, threaten human health, and cost the economy millions of dollars in lost revenues. We need to understand more about the toxins in red tide so we can stop their damaging effects. The work being done here at Mote will help manage and mitigate the effects of red tide."
Researchers at Mote, the National Oceanic and Atmospheric Administration (NOAA),  the Florida Fish and Wildlife Conservation Commission, the Florida Department of Health, the University of South Florida and other institutions are studying how to combat red tide which causes more than $80 million in losses to the tourism, seafood and restaurant industries. 
Back in March, Buchanan successfully got an amendment through Congress that sends $8 million to the NOAA's National Ocean Service "to detect, respond to and develop new and innovative technologies to mitigate the impacts of red tide." That proposal was included in the federal omnibus. 
"Red tide poses a serious threat to our environment, marine life and economy," Buchanan said when he got the amendment through, noting the impact red tide on the Suncoast. "We need to understand more about the toxins in red tide so we can stop the damaging effects."
"As a challenging Florida red tide bloom persists along the Gulf Coast, it is appropriate that Congressman Vern Buchanan chose to visit Mote Marine Laboratory's City Island research campus today to discuss the latest developments in our innovative, red tide-focused science, technology and public outreach programs," said Dr. Michael Crosby, the president and CEO of Mote Marine Laboratory. "We recognize Congressman Buchanan for his relentless attention to addressing red tide, and we appreciate that the congressman turned to Mote recently for independent, objective expertise and science-based information as he championed a bipartisan effort resulting in $8 million appropriated to NOAA's National Ocean Service to fight harmful algal bloom impacts. This meaningful contribution should help the U.S. government take its rightful place in support of much-needed, improved red tide research and mitigation efforts at state and local levels."
First elected to the U.S. House in 2006, Buchanan serves on both the Budget and the Ways and Means Committees. Buchanan's name has garnered buzz as a possible U.S. Senate candidate in recent election cycles but he's opted to continue in the House.