December 4, 2018 - 6:00am
If you follow me regularly, you know how critical I can be of politically charged bias in Florida's mainstream media.
But don't believe for one moment that my criticism is some kind of blanket pronouncement on the value of one of our most cherished institutions. 
 
On Friday the Sun Sentinel showed in a single powerful, in-depth story how much good a newspaper can do when it applies its resources to answering the questions most of the rest of us can't.
Read "Hide, deny, spin, threaten: How the school district tried to mask failures that led to Parkland shooting." In it, Contact reporters Brittany Wallman, Megan O'Matz and Paula McMahon tell a story much of Florida has been waiting to hear:  What was the school system's role in former student Nikolas Cruz's massacre of 17 people last Valentine's Day at Marjory Stoneman Douglas High School? 
It's the story of a cloak of secrecy that illustrates the steps a beleaguered public body will take to manage and hide information in a crisis when reputations, careers and legal liability are at stake.
"For months, Broward schools delayed or withheld records, refused to publicly assess the role of employees, spread misinformation and even sought to jail reporters who published the truth," the story reports.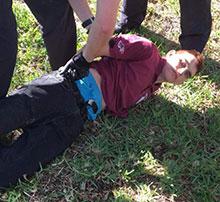 "New information gathered ... proves that the school district knew far more than it's saying about a disturbed former student obsessed with death and guns who mowed down staff and students with an assault rifle on Valentine's Day.
"After promising an honest assessment of what led to the shooting, the district instead hired a consultant whose primary goal, according to school records, was preparing a legal defense. Then the district kept most of those findings from the public.
"The district also spent untold amounts on lawyers to fight the release of records and nearly $200,000 to pay public relations consultants who advised administrators to clam up ..."
Sadly, much of the story remains under wraps because the school system is allowed to do that, at least until a state commission releases its initial findings about the shooting around New Year's. But now we know how far this massive bureaucracy was prepared to go to keep the truth behind the Parkland massacre hidden from view.
Broward schools has been a huge missing link in a story tangled in a conglomeration of rumors and suspicions of whitewash and incompetence and deflective finger-pointing.
What impressed me is, the Sun Sentinel didn't wait for The New York Times to send down an investigative team to find out what's really going on -- something the Times increasingly has to do on big stories as state newspapers obey an instinct to protect local favorites and corporate special interests.
It did what a good local paper does when an agency of government keeps details of a horrifying, transformative community event under wraps.
It went to work to own it. To unclothe the whole stunningly dishonest coverup.
Here are some, but far from all, of the facts the newspaper's story puts together for us:
-- Behind a shield of privacy laws and security secrets, schools can cover up errors and withhold information the public needs in order to heal and to evaluate the people entrusted with their children's lives -- all thanks to the shortcomings of federal education laws.
-- Nine months after the shooting few have been held accountable. Only two low-level security monitors have been fired. Last week three assistant principals and a security specialist were finally transferred out of Stoneman Douglas, but we don't know what they did or where in the system they went.
-- Superintendent Bob Runcie continues to insist circumstances involving the shooting are fully transparent -- then, sometimes on the same day, fails to answer even reporters' basic questions.
-- Without taking bids or interviewing consultants, the district let its outside law firm hire a Tallahassee contractor that was thick with school board attorney Barbara Myrick. The contract, for $60,000, "did not demand the thorough and transparent review that Runcie promised. Rather, it directed the consultant to analyze Cruz's school records, interview educators and keep the details secret. The contract required the consultant to "further assist the client in ongoing litigation matters."
-- In May, "Runcie said the district would 'wait until we have the facts' in the report before talking in detail about Cruz's involvement in PROMISE, a program that gives students a second chance after disciplinary problems." Why wait? No reason beyond a school system whim, and no explanation.
-- In October, the school district "refused to release a presentation by internal security expert Al Butler because it supposedly contained security secrets, but then the state commission released it the next month."
-- "At one point the district said it would cost $2,600 for reporters to see copies of letters that teachers and staff sent to School Board members after the shooting. The district said it would charge $2,700 for Principal Ty Thompson's emails related to Cruz, the tragedy and security. Journalists obtained some of the letters months later after negotiating a lower price. Other emails were released only after the parents of dead students sued the school district, saying they had been unable to obtain public records."
-- The district redacted something like two-thirds of the references to Cruz in a report. Only when the Sun Sentinel obtained and published an uncensored copy did the truth come out: Cruz was deeply troubled; the district improperly withdrew support he needed; he asked for additional services; and the district bungled his request, leaving him spinning without help.
-- Of course, school system attorneys are trying to jail the reporters for printing the truth. They aren't simply threatening, they've filed actual complaints, which the court has yet to act on. 
With all the newspaper revealed about the coverup, there's actually more: Cruz's statements during different phases of his public school education that weren't acted upon.
They were obtained in a copy of the report that was not redacted. In middle school:
"I'm a bad kid. I want to kill."

Stated Cruz's eighth-grade language arts teacher in a report: " "I strongly feel that Nikolas is a danger to the students and faculty at this school. I do not feel that he understands the difference between his violent video games and reality."

In October 2013: "I would rather be on the street killing animals and setting fires."
Same year, in an eighth-grade class, a teacher noted he "became fixated on the assassination of Abraham Lincoln. "What did it sound like when Lincoln was shot?" he asked. "Did it go pop, pop, pop really fast? Was there blood everywhere?"
"At Westglades Middle School, at the beginning of eighth grade, one girl's mother called to have her transferred out of Cruz's class because she was concerned for her child's safety. The mother called Cruz a 'menace to society,' according to a psychosocial assessment."
Gray Feldon, an attorney and uncle of one of the murdered MSDHS students, told Sunshine State News on Sunday, "You have to hand it to the Lauderdale newspaper. They've got some cajones after all. The business community the paper relies on for advertising loves (Schools Superintendent) Bob Runcie but (the paper) sliced and diced him like a tomato."
The newspaper points out Broward is the sixth-largest school system in the country, with more than 270,000 students and a budget of more than $4 billion. Important to remember here, it is Broward's largest public sector employer, its leadership wields tremendous power and influence, and the community's top businesspeople have been among Runcie's staunchest supporters.
Sun Sentinel reporters quote Keith Koenig, president of City Furniture and chairman of the Broward Workshop, a nonprofit made up of the county's major corporations including school district vendors and contractors: "The business community has confidence in Bob Runcie 100 percent." 
Which in my book earns the paper a red badge of courage.
Keep watching the Sun Sentinel. I'm betting this story just whet the staff's appetite. 
These folks are nowhere near through with Runcie, the School Board or their hide-and-seek shenanigans.
I call this good, old-fashioned journalism from the legacy days I remember -- a masterful piece of writing and reporting skill that shows the will of reporters and a brave newspaper to pry open the door of public access. What a bleak and frightening thought to imagine our world without it.
Reach Nancy Smith at nsmith@sunshinestatenews.com or at 228-282-2423. Twitter: @NancyLBSmith