September 9, 2019 - 3:15pm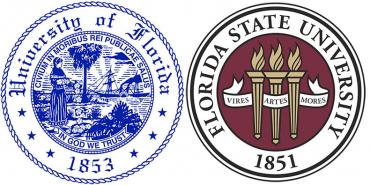 Senate President Bill Galvano, R-Bradenton, released Monday a congratulatory statement to the University of Florida (UF) and Florida State University (FSU) for their latest achievement, both placing on the top-20 public universities list in the U.S. News & World Report's "Best Colleges 2020" guidebook. UF is ranked No. 7, while FSU is ranked No. 18. 
Monday's announcement marks the first time FSU has ranked among the top 25 national public universities.
U.S. News & World Report is acknowledged as the global authority in education rankings.
"I am proud to congratulate the students, faculty, and staff of the University of Florida for their ranking as a top-10 public university for the third consecutive year. Additionally, I am pleased to commend the students, faculty, and staff of Florida State University for not only meeting, but well-exceeding their goal of becoming a top 25 public university.
"In particular, I am pleased to applaud my friend, FSU President John Thrasher, on this tremendous accomplishment. President Thrasher's steadfast vision for FSU, from his service as speaker of the House to his years as chair of the FSU Board of Trustees to his terms in the Florida Senate, demonstrates that he has been a lifelong champion for FSU. Today's announcement is certainly a testament to his enduring commitment to this great university.
"The vision of two top-25 public universities in our state has been a common goal of university leadership, the Florida Legislature and the State University System Board of Governors for many years. In particular, Senate President Joe Negron made the elevation of our state university system a primary focus of his term as Senate president. 
"I was honored to sponsor Senate Bill 4 in 2018, which solidified President Negron's vision for historic investments in need-based and merit-based student financial aid, as well as significant funding and policy enhancements that give the universities tools they need to better serve students and increase accountability to taxpayers.
Concluded Galvano, "As we move ahead to the 2020 session, I look forward to working with my colleagues and our partners in both the State University System and our Florida College System to ensure we keep Florida's higher education system among the top in the nation across all measures, from access, to affordability, to on-time graduation, to job placement in the important occupations needed in our growing communities."
Sen. Rick Scott released his own statement commending Florida's public universities on their improvement, also tipping his hat to the University of South Florida which came in at  No. 44 in U.S. News & World Report's rankings.
Said Scott, "For three years in a row, U.S. News & World Report has rated Florida's higher education system as the best in the nation, and I want to thank our universities and our students for continuing this success. 
"Florida has experienced a 9.5 percent increase in its college graduation rate over the last five years," said Scott, Florida's former governor, "and our public universities, especially the University of Florida, Florida State University and the University of South Florida, continue to score impressive ratings every year. 
"We worked hard in Florida to provide our students with a world-class education that leads to a good-paying job at a price they can afford, and today's rankings show Florida continues to be a leader in higher education. I look forward to working in the Senate to share Florida's success with the nation and to make education more affordable for all families."