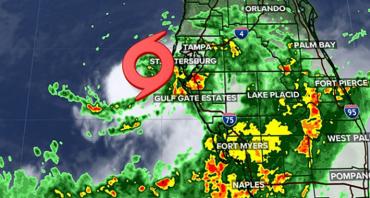 A tropical storm that formed quickly near Tampa -- and at 10:45 a.m. Monday was only 35 miles offshore -- is threatening southern Florida with heavy rain, strong winds and possible flash flooding.
Tropical Storm Emily, as the National Hurricane Center has named it, is now just west-southwest of Tampa. The storm is expected to track across the Florida peninsula over the next 24 hours, forecasters said.
Gov. Rick Scott issued Executive Order 17-204 on Monday morning, declaring a state of emergency in 31 counties in response to the tropical storm. A state of emergency gives the state the flexibility to work with local governments to ensure they have all the resources they may need. 
Tropical storm warnings are currently in effect for Pinellas, Hillsborough, Manatee, Sarasota, Charlotte and Lee Counties. At this time, there are no evacuation orders in effect. The Florida National Guard stands ready to assist with any storm related impacts, said the governor.
 
"Earlier this morning, Tropical Depression Six was upgraded to Tropical Storm Emily," said Scott, "and tropical storm warnings are currently in effect along Florida's west coast. Upon learning of this tropical system from the National Hurricane Center, the State of Florida immediately engaged to prepare for any potential storm impacts. I have declared a state of emergency across 31 counties to ensure that every community has the resources they need, and that state, regional and local agencies can easily work together to keep people prepared during Tropical Storm Emily.
 
"While this storm developed quickly overnight and will swiftly move across our state, storms can always develop rapidly and that is why is it so important to be prepared at the start of hurricane season. ..."
The rain, winds and flooding are expected to affect southern and central Florida, basically from the I-4 corridor south. A tropical storm warning has been issued for the west coast of Florida from Anclote River southward to Bonita Beach.
Emily is expected to produce two to four inches of rain Monday night along the west coast of central Florida, between the Tampa Bay area and Naples, according to the 8 a.m. National Hurricane Center advisory. In some isolated areas, up to eight inches of rain are possible.
In other areas across central and South Florida, one to two inches of rain is expected, with four inches possible in some areas.
The state has been monitoring the storm system since early Monday morning when it was only a tropical depression. But it organized into a tropical storm within hours.
Emily will move onshore later today near Tampa and Sarasota, bringing pockets of tropical storm-force winds and bands of heavy rain.
In southwest Florida, widespread heavy rain and storms will continue to stream in from the Gulf of Mexico, but residents will see some breaks in the rain at times through the afternoon.
Scott and Florida Division of Emergency Management Director Bryan Koon urged residents to make the proper preparations for the storm. They advised people to visit the FL GetAPlan.com website for resources and information.
Weather forecasters predict that by Tuesday morning, Emily will have moved into the Atlantic off the Florida's east coast, but will leave a trail of tropical moisture over southwest Florida, resulting in more periods of rain and storms Tuesday.
Reach Nancy Smith at nsmith@sunshinestatenews.com or at 228-282-2423. Twitter: @NancyLBSmith
---
READ MORE FROM SUNSHINE STATE NEWS
Time for Real Transparency in Tallahassee