February 4, 2017 - 8:45pm
Protesters marched all the way to President Donald Trump's Winter White House Saturday evening to protest Trump's presidency, which has been riddled with controversy since it began last month.  
Around 3,000 protesters crammed onto the streets in Palm Beach, many of them closed off by the Secret Service, to speak out against Trump's policies. The president's earliest orders and Cabinet decisions have struck a chord with some voters disappointed with the direction their country is taking. 
Many focused on Trump's latest executive order banning refugees from entering the country for 90 days, a decision many have criticized as anti-Islamic and anti-American. 
Trump touched down in West Palm on Friday and planned to dance the night away at the annual Red Cross Ball in Palm Beach this weekend. 
Meanwhile, protesters aimed to get under his skin, chanting and shouting in the streets of his vacation town.  
Lead organizer Stephen Milo canceled the event earlier this week over safety concerns, citing the "possibility of the march march turning into an angry confrontational demonstration vs. a joyful show of unity" but that didn't last long.
South Florida Activism and Women's March Florida's Palm Beach County Chapter quickly took the reins of the event, putting it on without city permits which meant marchers had to stay on the sidewalks. 
"Trump is against everything America stands for," said Martha Diaz of West Palm Beach. Diaz said she was raising her voice against Trump's "anti-immigrant" policies which she says unfairly discriminate against minorities and suffering people. 
Other protesters said they felt unsafe in Trump's America since he was deciding to promote people with "radical opinions" into administration positions.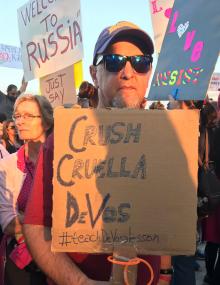 Greg Shapiro of Fort Lauderdale waved a sign advising U.S. senators to dump controversial U.S. Secretary of Education nominee Betsy DeVos, in part because she has no education experience, but partially because of what he says are anti-gay positions. 
"She's very anti-gay, and her family is anti-gay," he told Sunshine State News. 
Pro-Trump counter protesters taunted marchers, calling them "losers" and telling them to "go home."
Saturday's march was one of many that have happened nationwide in recent weeks. Protesters have been speaking out against Trump for even longer than that, going all the way back to since he won the presidency in an historic upset over Democratic candidate Hillary Clinton. 
Police presence grew as marchers made it to Mar-A-Lago, crossing the bridge. Their momentum never slowed as they sent the president a message: "We're not going anywhere."
U.S. Rep. Lois Frankel said she was proud of marchers, many of whom made the full 2.4 mile trek all the way to Mar A Lago as the night went dark. 
"This is what democracy looks like," she said.