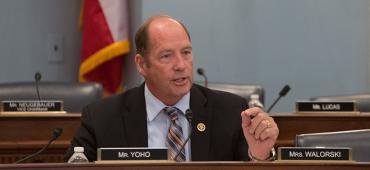 Ted Yoho
This week, a U.S. Navy vessel made a port visit to Vietnam for the first time since the Vietnam War and a Florida congressman hopes this will help improve relations between the two countries. 
The USS Carl Vinson ported at Da Nang this week and U.S. Rep. Ted Yoho, R-Fla., the chairman of the U.S. House Asia and Pacific Subcommittee, offered his take on the increased ties between the two nations. 
"We've come a long way since April 30, 1975, which marked the end of the Vietnam War," Yoho said. "This week, we reached a new milestone in the U.S. - Vietnamese partnership as the USS Carl Vinson visits Da Nang, marking the first time that a US aircraft carrier had been in Vietnam since the close of the war over 43 years ago."
Yoho, who sits on the U.S. House Agriculture and Foreign Affairs Committees, noted that Vietnam was increasingly becoming an important trade partner of the U.S. 
"Vietnam has become the United States' 10th largest agricultural market and the 16th largest trading partner overall," Yoho said before pointing to his own experiences with Vietnamese officials. "I had the honor last year to travel to Vietnam and meet with government leaders including Prime Minister Nguyễn Xuân Phúc. I later had the opportunity to host Vietnamese Ambassador Pham Quang Vinh in my home district of North Florida. These exchanges will lead to an even greater trading partnership between the United States and Vietnam."
For his part, Yoho insisted he would continue to push to build stronger ties between the two countries. 
"I hope that we continue to make both of our nations stronger by increasing the bilateral relations between our two countries," Yoho said. "As chairman of the Asia and Pacific Subcommittee on House Foreign Affairs, strengthening these partnerships will be key to maintaining stability in the region. I applaud Secretary Mattis for his initiative and efforts in making this a successful endeavor."