December 4, 2017 - 6:00am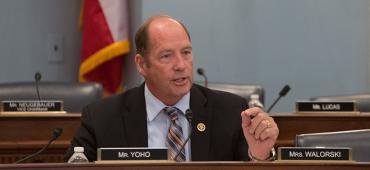 Ted Yoho
U.S. Rep. Ted Yoho, R-Fla., the chairman of the U.S. House Asia and Pacific Subcommittee and a member of the U.S. House Foreign Affairs Committee, is looking to reform how the U.S. funds multilateral organizations including the United Nations. 
Last week, Yoho cosponsored U.S. Rep. Michael McCaul's, R-Texas, "Multilateral Aid Review Act." U.S. Rep. Albio Sires, D-NJ, is also a cosponsor. Like Yoho, McCaul and Sires sit on the Foreign Affairs Committee.
The proposal would increase transparency in foreign aid, create a "methodological basis for allocating scarce budgetary resources to those that advance relevant United States foreign policy objectives" and use incentives to ensure foreign aid is more effective. Last week, McCaul introduced the bill which was sent to the Foreign Affairs Committee. 
Yoho made the case for why the bill was needed. 
 "Billions of taxpayer dollars have been spent funding multilateral agencies such as the United Nations," Yoho said. "It is imperative that the United States begins assessing the multilateral system and its effectiveness to guarantee that the United States' priorities and goals are being best served. The multilateral system has the potential to be great and to be more than the sum of its parts. However, years of inept leadership and corruption have diminished the effectiveness of certain parts of the multilateral system. The Multilateral Aid Review Act of 2017 will give the necessary tools to the United States to help right the multilateral system and make it more effective."
"United States government agencies collectively spent over $10 billion on funding multilateral entities in fiscal year 2016," McCaul said. "While this assistance is vital, it is in the best interest of the U.S. to assess the value of these investments. That is why I am proud to work with Congressmen Sires and Yoho to introduce this bill that will help maximize the impact of our limited foreign assistance dollars."
"U.S. foreign assistance is critical, but with increasingly limited diplomatic resources, it is essential to ensure that this assistance is being used effectively," Sires said. "This bill would provide greater oversight by assessing the efficacy of U.S. investments in multilateral entities, which will provide an important tool to guide U.S. funding decisions. Consequently, this bill would also create incentives for performance improvements, greater transparency, and accountability amongst multilateral entities."
So far, there is no Senate version of the bill.