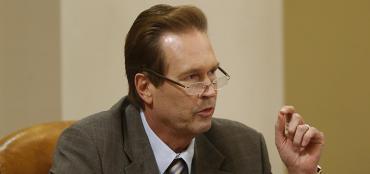 With Tuesday marking Tax Day, U.S. Rep. Vern Buchanan, R-Fla., who sits on the House Budget and the Ways and Means Committees, renewed his call for tax reform and a balanced budget amendment to the Constitution. 
Making the case for tax reform, Buchanan noted that the average Floridian paid $8,000 a year in federal taxes while the federal government continued to grow. 
 
"Americans are paying a record amount in taxes to fund an ever-growing federal bureaucracy," Buchanan said. "Hardworking families are struggling under a complex and punishing tax code. Our tax policies should incentivize job creation and economic growth, not punish people for working hard." 
 
Buchanan insisted the tax code was too complex and called for streamlining the process. 
 
"Filing and paying taxes is complicated and frustrating for American families," Buchanan said. "I'm focused on enacting meaningful tax reform that would lower rates for all Americans and simplify the tax code so that nine out of 10 people could file on a postcard-sized form.
"Simplifying the tax code and bringing down tax rates for families and small business owners will give the American economy a much-needed boost," Buchanan added. 
With Tax Day here, Buchanan renewed his call for a balanced budget amendment and for less federal spending. 
"We must also rein in federal spending," Buchanan said. "I've called for a constitutional balanced budget amendment to ensure that Washington lives within its means."
First elected to Congress in 2006, Buchanan has been active in recent years in pushing for a balanced budget amendment. At the start of the year, Buchanan introduced a bill banning congressional pay raises until there's a balanced budget.
---
READ MORE FROM SUNSHINE STATE NEWS
Chris King Turns to Dem Campaign Operatives to Help Gubernatorial Bid
Florida Congressional Reps Call for Tougher Action Against North Korea