Well-to-do whites showed up
Unveiling of plans for a shiny new $892 million stadium in Ybor City by the Tampa Bay Rays organization Tuesday struck out on the key question: a funding source.
The presentation is seen by many -- supporters, opponents, and skeptics alike -- as an effort to gain converts.  The Rays' billionaire owner Stu Sternberg is unwilling to pay for the project.
He has said he will chip in $150 million, a number expected to double so that he looks heroic. Laughable, as taxpayers stand to be on the hook for a minimum of $600 million.
 
With unexpected expenses, inflation, and the expected "cost overruns," only a fool cannot see the stadium will carry a pricetag of at least $1 billion.
The packed house of ball washers at Ybor City's Italian Club boasted better attendance Tuesday than a typical Rays-Oakland A's game at Tropicana Field.
The overwhelmingly white, well-to-do audience -- Tampa's downtown business crowd -- was expecting a finely tuned, polished presentation of the Rays' last ditch pitch for a taxpayer-financed stadium, a glossy structure to be sure.
Instead, they viewed a glitch-riddled show. The Rays easily can shed stars in their prime but matching slides to commentary from the podium seemed Herculean.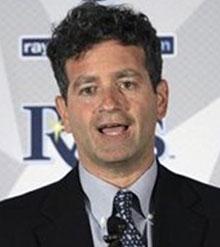 Architects, the same ones who designed Petco Park in San Diego and Coors Field in Denver, called the structure "a ballpark," not a stadium.  Plans are for a translucent roof, plenty of glass, and open space on the perimeter that would make the complex compatible with Ybor's many street festivals.
Presenters emphasized that the ballpark would be a perfect fit for Ybor, one of the most historic districts in the United States. "Contextual to the city skyline and surrounding area," in architect-speak.
One would require a graphic imagination for that to come to fruition. The compatibility claim did not square in the least with the drawings, slides, or reality for that matter.  Use "sore" and "thumb" in the same sentence.
With the many reiterations of the glass, openness, and translucency, there was nary a word about the stadium being hurricane-proof. The Rays' season runs from April through September. Hurricane season is from June through November.
Fox Sports Radio overnight host Ben Maller was the first national sportscaster to weigh in on the Rays' plans. "Just another tax scam," he declared, predicting a franchise exit from Florida to another city. Maller noted the Rays' anemic attendance and likened the scheme to the Florida Marlins' taxpayer-subsidized stadium in Dade County. Taxpayers there are furious with their white elephant.
Opposition to a taxpayer-subsidized stadium in Ybor City covers the political spectrum: progressive Democrats, tea partiers, mainstream voters who cannot tolerate economic injustice. Americans for Prosperity has publicly condemned Tampa Mayor Bob Buckhorn for facilitating a tax break for Sternberg's playpen.
Jim Bleyer, a former reporter at the Orlando Sentinel and Tampa Tribune, writes the Tampa Bay Beat blog.