November 20, 2017 - 6:00am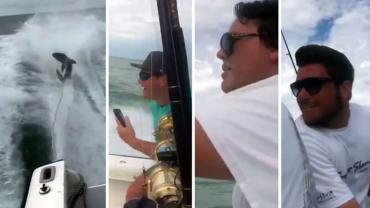 Clips from the July shark video
Four months after the Facebook posting of a disturbing 11-second video showing a shark being hauled alive behind a speedboat, the Florida Fish and Wildlife Conservation Commission's investigation of the incident remains incomplete.
"What we discovered was, many of the (alleged animal abuse) violations photographed happened in Hillsborough County," Robert Klepper, FWC spokesman told Sunshine State News.
That means the FWC is working with the 13th Judicial Circuit (Hillsborough County), as well as the 12th Judicial Circuit (Sarasota, Manatee and DeSoto counties) to determine the status of the violations that may have occurred.
Klepper said it isn't unusual that such an involved investigation would take so long. "All I can tell you is, the case is progressing, nobody has dropped the ball. It's all very much alive."
Andrew H. Warren, state attorney for Hillsborough, was unavailable Friday.
Ed Brodsky, state attorney for the 12th Judicial Circuit, echoed Klepper in a written statement. "These investigations are complex, and the FWC and both state attorney's offices appreciate the public's understanding and patience. We take these incidents seriously, and this investigation is moving forward."
The oft-repeated video posted in late July shows the dragged shark hitting the surface of the water and flipping around before the cameraman turns the lens to show three men on the boat, laughing and pointing at the animal. One can be heard saying, "Look, it's already almost dead."
The posting went viral overnight. Public outrage was immediate. So was the cry to sign a Change.org petition demanding the men responsible have their fishing licenses permanently revoked, serve time in jail and complete 1,000 hours of community service "to teach these young men to treat our Florida wildlife with respect."
And the Florida Fish and Wildlife Conservation Commission (FWC) jumped on an investigation. (The FWC case number is FWSW17OFF012872.) Though the agency was cautious -- some say too cautious -- and declined to release the names of the men aboard the boat, several angry people posted two of their names on Facebook. Manatee County residents recognized them as Michael Wenzel (the boat's pilot) and Robert Lee 'Bo' Benac. 
These are well-connected young men. Wenzel's father is Robert Wenzel, Manatee County Planning Section manager; Benac's mother is Betsy Benac, chairwoman of the Manatee County Commission. Neither parent returned my phone call.
Several other photos of suspected abused marine animals were found on the men's social media websites. 
It's not too late, Brodsky said, for anyone with evidence to submit it to the FWC's Wildlife Alert Hotline at 888-404-3922 or Tip@MyFWC.com.
Reach Nancy Smith at nsmith@sunshinestatenews.com or at 228-282-2423. Twitter: @NancyLBSmith