November 26, 2018 - 2:00pm
Shane Strum
Governor-elect Ron DeSantis announced Monday the hiring of an old hand at the Governor's Office, former Broward Republican Chairman Shane Strum, as his chief of staff.
Strum, who served as a transition advisor to Governor Rick Scott and as chief of staff to Gov. Charlie Crist, will begin his service to Governor-elect DeSantis and the State of Florida Jan. 8, 2019.
"I am very pleased to announce that Shane is returning to public service and bringing his expertise to our administration," DeSantis said in a statement. "Having spent many years in both the private and public sector, and previously serving two Florida Governors, Shane will be a great addition to our team."
Following the announcement, leading Florida Republicans praised the selection of Strum. Here's what they had to say:
Congressman Matt Gaetz: "Shane Strum is the perfect choice to serve as Chief of Staff. His management expertise in business, education, health care and government will accelerate Governor-elect DeSantis' bold vision for Florida's future. From the Republican Party to the private sector, Shane has succeeded in every job he has had. He'll be ready on day one."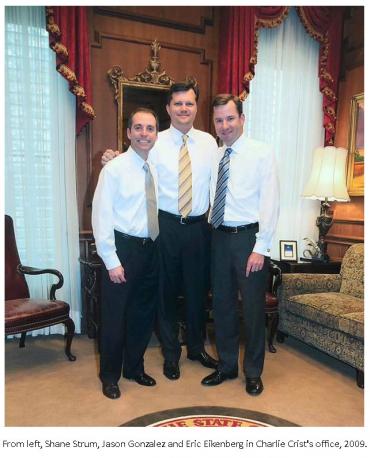 Former Speaker of the Florida House Richard Corcoran: "Beyond the fact that Shane Strum is a good man, he is an experienced and capable manager with deep knowledge of state government. His selection ensures that the Governor-elect can hit the ground running."
Republican Party of Florida Chairman Blaise Ingoglia: "To put it in baseball terms, this pick is a grand slam. Shane Strum is a dedicated public servant who is smart and knows how to get things done. Plus, it's cool that a past Broward County Republican Executive Committee Chair is now helping to implement Governor-elect DeSantis' conservative agenda for a better Florida."
DeSantis Campaign Chair and Transition Executive Director Susie Wiles: "Shane Strum is a fine leader and knows the process as well as anybody in the state. I was privileged to work with him as Senator-elect Scott transitioned into the Governor's office in 2010 and saw just how effective he was. I know he will bring his policy expertise, management skills and love for the state to the Governor's office and will serve Governor-elect DeSantis with excellence."
READ MORE FROM SUNSHINE STATE NEWS
What Torpedoed Andrew Gillum? The FDP and His Lieutenant Governor