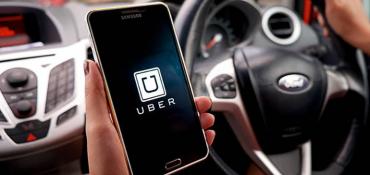 Uber and Lyft were riding high Tuesday after the Senate Banking and Insurance Committee passed legislation to create regulatory and insurance requirements for popular ridesharing companies.
The bill, SB 340, sponsored by Sen. Jeff Brandes, R-St. Petersburg, passed with a vote of 7-2.
The proposal would establish a regulatory framework for Uber and Lyft drivers in Florida.
One of SB 340's biggest requirements would obligate both companies' drivers to carry $100,000 worth of insurance for bodily injury or death. The proposal would also require Uber and Lyft drivers to carry $25,00 for property damage while logged into the app when not carrying a passenger.
Insurance requirements would jump to $1 million when driving a rider, a number more than required for for-hire passenger vehicles like taxis and limousines.
Third parties would also conduct thorough criminal background screenings for drivers under the legislation, which would also include a full driving history for transportation network companies' drivers.
Drivers would not be allowed to drive for Uber or Lyft if they had more than three moving violations in a three-year period. Any felony convictions within the last five years as well as misdemeanor charges like driving under the influence would also disqualify drivers from working for the company.    
For Brandes, the legislation has been a long time coming.
"The passage of this bill today in committee reflects years of hard work to advance this legislation in the Florida Senate," he told Sunshine State News. "Residents, businesses, and tourists have waited far too long for the legislature to get its act together and embrace ridesharing. Today we are sending a message that ridesharing is welcome in Florida."
Representatives from Uber said Tuesday's vote was a step in the right direction for keeping drivers and riders safe.        
"Uber's goal is to empower people through mobility, with the safety of our riders and drivers at the forefront of every decision we make," said Uber Public Policy senior manager Stephanie Smith. 
Lyft agreed.
"This is a significant step toward a uniform, statewide framework for modern options like Lyft and we look forward to continuing to advocate for expanded consumer choice that keeps public safety first," said Lyft senior policy communications manager Chelsea Harrison.
Insurance companies also chimed in with heaps of praise for Brandes' bill.
"This is yet another critical step in making sure Florida's rideshare drivers have adequate insurance coverage if an accident were to occur," said Property Casualty Insurers Association of America regional manager Logan McFaddin. "Our top priority is to protect drivers and the public by closing the insurance gaps and this bill accomplishes that goal."
The companion version of the legislation, CS/HB 221, sponsored by Reps. Chris Sprowls, R-Safety Harbor, and James Grant, R-Tampa, is currently weaving its way through the Florida House. 
For Uber, Tuesday's vote was another rung to climb on the ladder of progress serving riders in the Sunshine State.
"We will continue to work to create a statewide regulatory framework so that drivers and riders have access to ridesharing no matter where they live in Florida," Smith said.