January 17, 2018 - 3:00pm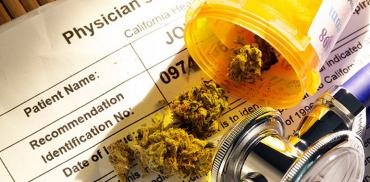 Florida lawmakers are still trying to work out the kinks in the state's growing medical marijuana industry -- and a new bill moving through the Senate seeks to expand the number of medical marijuana licenses by removing what some call an "unconstitutional" qualification shutting out many black farmers from the booming medical pot business.
SB 1134, sponsored by Sen. Darryl Rouson, D-St. Petersburg, would strip part of a Florida law requiring black farmers to be members of the Florida Chapter of the Black Farmers and Agriculturalists Association before they could be eligible for a medical marijuana license. 
The Florida Senate Health committee unanimously passed SB 1134 on Tuesday. 
Gov. Rick Scott signed a bill into law to regulate the state's medical marijuana industry last summer, giving blacks an "in" to the business which is only expected to explode as more licenses become available.
 
Under current state law, at least one of the state's new medical marijuana licensees is supposed to be a class member of the Florida Chapter of the Black Farmers and Agriculturalists Association. 
 
To be a qualifying class member, farmers must have also participated in the Pigford v. Glickman case, a lengthy lawsuit which began in 1981 and spanned nearly two decades.
 
In the 1980s, black farmers alleged the U.S. Department of Agriculture racially discriminated against black farmers in a myriad of ways, marginalizing minority farmers by increasing land tax, delaying loans until the end of planting season and only approving a small amount of black farmers' loan requests.
 
Black farmers struggled to succeed in the farming industry and as a result, the number of black farmers plummeted in the 1990s -- by nearly 100 percent. 
 
Desperation prompted the black farmers to file a class action lawsuit against the USDA. The suit spanned 17 years from 1981 to 1999 until the USDA agreed to pay a settlement of more than $2.3 billion back to the farmers. 
 
Now, to cash in on medical marijuana, black farmers must meet an extremely narrow set of criteria that could shut many of them out completely.
 
In order to be a class member of the Pigford v. Glickman case, black farmers must have been in operation over 30 years ago and must have participated in the case. That means they'd have to still be around to apply for a license to grow medical marijuana in 2017.
 
The exact number of black farmers who actually qualify is a mystery.
 
USDA data shows only 284 claims prevailed in the Pigman case. Other states, like Alabama and Mississippi, had more than 3,000 prevailing claimants each.
Columbus Smith, a  black farmer from Panama City, filed a lawsuit challenging the law in Leon County circuit court in September, alleging that the new law is unconstitutional and unfairly narrow -- with so many restrictions -- that only a very small number of black farmers can qualify to get one of the coveted licenses to grow medical pot in Florida.
 
A Leon County circuit court judge sided with Smith last month and granted a temporary injunction in the case, which essentially implies Smith's case has a strong likelihood of prevailing in court.
Florida has gotten off to a rocky start implementing the new medical marijuana law. The state missed the October deadline to dole out 10 new licenses to cultivate and sell medical marijuana in the Sunshine State, which some activists say could cause serious problems for needy Floridians. 
"This [bill] is badly needed because due to the poor implementation of SB8A...we are getting in front of an oncoming public health crisis," said Gary Stein of NORML Florida. 
The bill now heads to the Senate Appropriations Committee for approval.
Reach reporter Allison Nielsen by email at allison@sunshinestatenews.com or follow her on Twitter: @AllisonNielsen.
---
READ MORE FROM SUNSHINE STATE NEWS
Black Farmer Files Lawsuit Against 'Discriminatory' Medical Marijuana Law