Sen. Gayle Harrell, R-Stuart, said Sunday if it's not too late, she will try to amend one of the Legislature's 2019 insurance bills to mandate all insurers inoculate at-risk people in areas identified by the Centers for Disease Control as having been hit by Hepatitis A.
"Local health departments usually insure Medicaid patients, the uninsured and the underinsured," said Harrell. "But this is a rising epidemic and we have to look for the vulnerable who might otherwise fall between the cracks."
Hepatitis A is sweeping Florida. The state Department of Health claims there have been 1,200 confirmed cases across 26 counties and the number is rising. "Hep A," as it's sometimes called, is a contagious liver disease usually spread person-to-person through objects, food or drinks that are contaminated by fecal matter from an infected person.  Look at the advancement of this disease in the comparison maps below. 
DOH considers a community "high risk" when there are five or more confirmed cases.
Those 1,200 hepatitis cases in Florida have more than doubled from 2016 to 2017, after remaining relatively stable in previous years, according to the DOH. The case count in January this year was higher than those seen in January in previous years.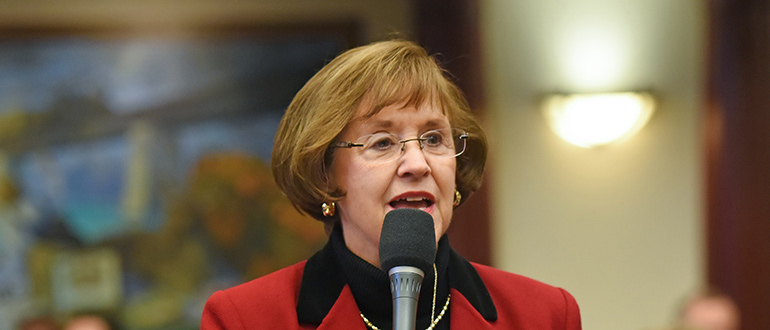 The CDC recommends unvaccinated people who have been exposed to the virus within two weeks get the vaccine or a shot of immune globulin to prevent severe illness.
In fact, what prompted Harrell, chair of the Senate Health Committee and vice chair of the Senate Appropriations Subcommittee on Health and Human Services, to call an elaborate press conference in her home district Saturday, was the severity of the disease in Martin, not the number of patients. "Although Martin County doesn't have a large number of cases compared to Hillsborough and Pinellas' 200 cases, we've had three deaths among the 19.
"The problem is, it takes two week for the disease to manifest itself after a patient contracts it," she said. "With all the tourists and transients in the state, this is going to be a tough one. We're going to need a CSI type of investigation to track it down."
Among those who spoke were Lt. Gov. Jeannette Nunez; Congressman for CD 18 Brian Mast; state Reps. Mary Lynn Magar, R-Tequesta and Toby Overdorf, R-Palm City; Martin County; Sheriff and former state representative Bill Snyder; state epidemiologist, Dr. Carina Blackmore; and Rob Lord, CEO of Martin County Health Systems with several other local officials. To view the press conference, see the YouTube video, as recorded by Treasure Coast News, by clicking on clicking HERE.
Harrell's press conference elevated the disease in Floridians' conscience, Blackmore said. "People still are largely unaware of Hepatitis A."
"I've left a message with Sen. Debbie Mayfield (R-Rockledge) to see if she thinks attaching my amendment to her insurance bill would be an appropriate place for it," Harrell said. "We can talk Monday."
Looking at the nation as a whole, at least 15 states have been fighting Hepatitis A outbreaks since March 2017. The CDC has been tracking the outbreaks, but the federal agency hasn't posted a comprehensive update for several months.
In June 2018 the CDC renewed a public health advisory urging health care providers to watch for potential cases. The agency also encouraged the public to seek vaccination.
The Food Safety News reports that public health investigators across the country haven't found a common source of the infections, but more than 70 percent of the victims are homeless people, substance abusers, or both. There is a post-exposure treatment, but it is only effective if given within two weeks of exposure.
Harrell said in Martin County, of the 19 Hepatitis A cases, five were homeless.
The CDC recommends routine vaccination for these at-risk groups:
All children at age 1 year;

People traveling to or working in countries with high or intermediate endemicity of hepatitis A;

People who have infected household members in close personal contact with infected people;

People interacting with adopted children newly arriving from countries with high or intermediate hepatitis A endemicity;

Men who have sex with men;

People who use injection and non-injection drugs;

People who have occupational risk for infection;

People who have chronic liver disease; 

People who have clotting-factor disorders;

The elderly, particularly with diabetes; and

Anyone wishing to obtain immunity.
All health officials have stressed the importance of people washing their hands several times a day. "It's the most important thing you can do to protect yourself," repeated Harrell.
Reach Nancy Smith at nsmith@sunshinestatenews or at 228-282-2423. Twitter: @NancyLBSmith.