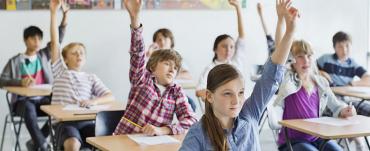 School districts from across the state are preparing to join forces to challenge the constitutionality of a massive education law passed earlier this summer.
The Broward County School Board voted earlier this month to file a lawsuit against the state over House Bill 7069, a sweeping education reform package which opponents say gives charter schools an unfair advantage over traditional public schools and would "totally dismantle" the state's public education system.
Four other school districts -- Bay, Lee, St. Lucie and Volusia -- all voted to join the suit and they're not the only ones. 
The number of counties joining in could skyrocket next month, with several other school boards -- at least 14 more -- holding votes to determine whether they, too, want to take their opposition of the bill to court.
Many school boards will vote on the matter during the first week of August. 
Signed in June, HB7069 has quickly catapulted public school officials into a frenzy, pledging they will fight to the end to protect public schools. 
At the heart of the suit is a disagreement over how much money the state will set aside for charter schools, which are privately managed and operate independently from school districts. 
As part of HB 7069, nearly $100 million would be set aside for charter schools to cover things like construction costs and maintenance projects -- money shared with public schools.
Data from the Florida House of Representatives shows some of the state's largest districts -- like Broward and Miami-Dade -- would have to share up to $23 million with charter schools.
School boards have largely been vehemently opposed to charter schools sharing tax dollars with the public school system, arguing the law takes away much-needed money for public schools. 
Broward County has decided to sue over the law because the district says HB 7069 violates the state's requirement to provide "a uniform, efficient, safe, secure and high-quality system of free public schools."
For years, charter school advocates have argued districts need to provide equal funding for their schools to put students choosing to attend charter schools on a level playing field with public school students. 
Not everyone agrees with charter schools sharing funding with public schools, though.
The state's teachers' union has routinely blasted HB 7069 in recent months, saying the new law was based merely on the philosophy of providing a rock-solid education rather than a tried-and-true approach to building a strong public school system.
 "Blindly jumping into this so-called 'fundamental transformation' of how we educate our children is based almost entirely on ideology," said Florida Education Association president Joanne McCall. "At best this is malpractice. This is no way to build a high quality public education system."
The bill was a top priority for House Speaker Richard Corcoran during this year's legislative session, easily passing through that chamber. 
Education activists inundated Gov. Rick Scott's office to oppose the bill, flooding the governor's office with letters, emails and phonecalls, urging him to say "no" to HB 7069. 
Because of the controversy and pushback, a cloud of uncertainty fell over the bill and it was unknown whether Scott would give his seal of approval on the bill.
Ultimately, after closed-door haggling, House Speaker Richard Corcoran and Scott reached a deal and the governor signed HB 7069 into law last month. 
Corcoran called the lawsuit "sad," alleging school districts would rather spend money on lawsuits than their students. 
"We have kids trapped in schools that have been failing year after year and these school boards have not lifted a finger to help those kids," he said in a statement to Sunshine State News. "They are fine with the status quo as long as they keep getting paid. School boards need to stop trying to protect their administrative budgets and start putting students first.  The taxpayer dollars we spend on education aren't for the benefit of bureaucracies and buildings. That money belongs to the students."
Rep. Manny Diaz Jr., who sponsored the bill, said school districts were "reaching" and should instead put their focus onto empowering students and bettering the state's education system.
"[They should] be worried about providing the best education for all students in their counties," Diaz told SSN. "I don't think they realize they are fighting against having equal funding for public school students in their own districts that chose charter [schools]. It's a shame they represent an entity instead of the voters that elected them."
Diaz told SSN he believed there were "very valid" questions to be asked about the expenditures of public dollars to sue the state. 
"It's a shame they represent an entity instead of the voters that elected them," he said.
School boards opposed to the new law have been raising money to ensure they're covered for any and all expenses when challenging HB 7069. 
All together, the school boards have already pooled nearly $100,000 to cover legal fees. 
That amount would only put a dent in the estimated cost of the suit, which could end up costing nearly $300,000. 
Miami-Dade Superintendent Alberto Carvalho said some of the money for the lawsuit would come from settlement cash from previous action against oil company BP.
On Thursday, Carvalho blasted the law yet said he was confident Miami-Dade would join in the suit, believing there was strength in numbers with so many districts hopping onboard with the legal action. 
"There are a number of provisions I believe violate that constitutional guarantee," Carvalho told WIOD. "The board recognizes that there is greater power in partnership and alliance rather than approaching it individually."
Reach reporter Allison Nielsen by email at allison@sunshinestatenews.com or follow her on Twitter: @AllisonNielsen.
---