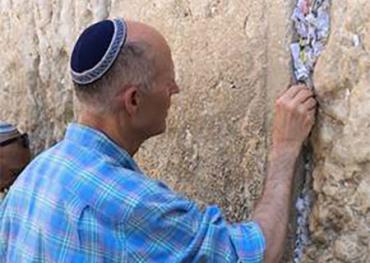 Rick Scott at the Western Wall Wednesday
U.S. Sen. Rick Scott, R-Fla., continued his tour of Israel on Wednesday, contrasting that nation with Palestine and taking aim at the Maduro regime in Venezuela. 
Scott and U.S. Sen. Mike Braun, R-Ind., have been visiting Israel this week, meeting with leaders of that nation's government on the ties between the two countries, talking about economic and military ties. 
When Scott launched the tour, his office showcased his record as governor, insisting he "worked to strengthen Florida's relationship with Israel" and noting he visited that country three times during his eight years in Tallahassee. 
"Senator Scott will always stand with Israel, our great friend and ally, and fight to take action against those that wish to harm them," the senator's office noted. 
Scott praised Israel on Wednesday and contrasted it with Palestine.  
"As I continue to travel Israel, the contrast could not be more clear. Israel is a vibrant democracy that supports capitalism, champions human rights and holds free and open elections," Scott said. "Conversely, Palestine had their last election for president in 2005, refuses to hold open and free elections, and fails to champion human rights. The United States must always align with those fighting for freedom and democracy, and stand up against those that do not respect human rights."
Another foreign policy hotspot was on Scott's mind as well. Scott was in Jerusalem on Wednesday where he visited the Western Wall "to pray for an end to Nicolás Maduro's evil regime and genocide in Venezuela."
Scott is a backer of President Donald Trump's decision to recognize Jerusalem as the capital of Israel and moving the American embassy to that city. 
"It's the capital of Israel, our embassy ought to be located there," Scott told the Jerusalem Post at the end of 2017.