October 26, 2017 - 6:00am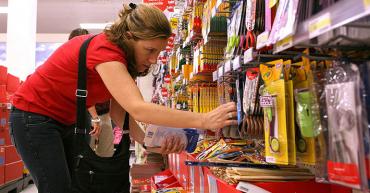 Other stories will get bigger headlines, but Gov. Rick Scott's announcement Wednesday that he has proposed $63 million for teacher supply grants in his 2018-2019 budget deserves recognition.
In the first place, it sheds light on a sad fact many Floridians conveniently forget -- that this isn't 1957, it's 2017. School systems don't operate under a simple definition. Students have increased, needs have increased, expectations have increased. Teachers have become so used to their classroom supply requests falling on deaf ears, most of them no longer ask -- they just open their wallets.
Shelling out is part of the profession. 
Scott's proposal represents an increase of nearly $18 million, or $100 additional per teacher, so they don't have to dip so far into their own money to provide supplies that haven't been provided to their classrooms any other way.
Currently, Florida teachers get $250 annually for classroom supplies. The governor's proposal will increase this funding to $350 annually.
A nationwide survey by Scholastic magazine taken earlier this year reveals teachers fork over about $500 of their own money each year for school supplies. This isn't unknown to the rest of us, we've known forever, it seems, how much teachers sacrifice so our children can learn.
According to the survey, teachers and principals in high-poverty schools spend even more than that on supplying kids. Both teachers (56 percent) and principals (41 percent) are spending their own money on books. While 89 percent of teachers have classroom libraries, regardless of school poverty level, 31 percent have fewer than 50 books.
Spending applies to all kinds of items -- not only typical staples such as copier paper or colored pencils, but also clothing, food and snacks, tissues, hand sanitizer and personal hygiene necessities for students who need them. In fact, two-thirds of all classroom supplies are purchased by teachers.
Florida is not separated from the pack in this survey, so we aren't sure how much higher or lower the $500 average figure is as applied to the Sunshine State. But Kristy Good, a third-grade teacher at Atlantic West Elementary School in Margate, told the Broward & Miami New Times newspaper she spends about $500 annually from her own pocket to buy classroom supplies. She said she would be laughed out of the office if she asked her school to pay for all the pencils, tissues, baby wipes, snacks, toys, stickers, posters, and decorations she uses to keep learning exciting and positive. "I know not to ask because we don't have it," she told the paper in an August 2016 interview.
Said Scott, "I have the opportunity to travel to schools and meet with our hardworking teachers, and yesterday I was fortunate to meet with our Teachers of the Year to hear how we can make our schools even better. 
"Teachers are heroes to our students and I'm committed to championing policies to continue to help them," the governor explained. "We have worked every year to ensure that Florida's teachers have the resources they need to help our students succeed. Far too often, teachers are forced to reach into their own pockets to buy supplies for their classrooms and I am proud to propose additional money for this critical program. Teacher supply grants allow our educators to secure the tools they need in the classroom and we will continue to fight to ensure that every Florida teacher can focus on student success."
Who of us hasn't known at least one teacher who juggles family finances, trying to find a balance between the family's needs at home and shortages in the classroom? Does this mean teachers are paid what they deserve? Of course not. But clearly, teacher sacrifice is very much on the governor's mind, and education funding has been moving in the right direction since 2012.
True, in a study published last year, Florida's school funding was graded "F". And the governor's critics are fond of quoting from it.
The study ranked the Sunshine State 42nd for education funding per student and 49th for the number of teachers per 100 students in public schools. The Education Law Center (ELC) compared equity in school funding for all 50 states in a study called, "Is School Funding Fair? America's Most Fiscally Disadvantaged School Districts." But the Pennsylvania-based ELC is a left-leaning think tank, its study was released in an election year, and it measured only from 2008 to 2013.
"Unfortunately, the Education Law Center's report focused solely on funding levels without considering the state's return on its investment in education," said Meghan Collins, director of communications for the Florida Department of Education.
"Florida's public education system is being funded at historic levels, and is ranked 11th nationally for K-12 achievement. Furthermore, our fourth grade students are among the best readers in the world and our high school graduates rank third in the nation for performance on advanced placement exams. We are proud of these accomplishments and believe Florida should be commended for its excellent student outcomes, which is our top priority."
In 2013, Scott championed a $2,500 across-the-board pay raise for Florida teachers. This year, reports the Governor's Office, he secured "the highest per-pupil funding in Florida history, which follows multiple years of Gov. Scott securing historic funding for education."
Reach Nancy Smith at nsmith@sunshinestatenews.com or at 228-282-2423. Twitter: @NancyLBSmith