October 16, 2018 - 6:00am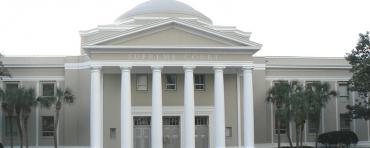 If Monday's Supreme Court decision doesn't light a fire under Florida's conservative base, I have no idea what will.
Almost immediately, the next governor, not Rick Scott, will choose three Supreme Court justices.
If Republicans care, they will beat a path to the polls. They will pound on doors and get other Republicans to vote, too. Heck, they will bend the ears of Constitution-loving Floridians wherever they can be found.
How our laws are shaped perhaps for generations is at stake. 
If Ron DeSantis wins in November, Florida will have three justices dedicated to judging cases based on the evidence and following the Constitution as it's written. They will be firm opponents of legislating from the bench to support their ideological views. They will look to the Legislature to MAKE the law, and the court to FOLLOW it.
If Andrew Gillum wins, Florida will have three justices who rule on controversial political issues based on personal opinion, rather than existing law. A "Governor Gillum" would duplicate activist retiring Justices Barbara Pariente, Fred Lewis and Peggy Quince, the Supreme Court's "liberal bloc" and three-quarters of its 4-3 majority.
Think, voters. Don't you want your Supreme Court justices to follow the Rule of Law whether it suits an agenda or not?
"Nowhere is the pattern of judicial activism more prevalent than in the State of Florida," writes Colleen Pero, an attorney and legal analyst specializing in reviewing state supreme court opinions, in an American Justice Partnership Report. 
And she cites examples in her report, "The Activist Journey of the Florida Supreme Court." Here are a few:
Armstrong v. Harris, 773 So.2d 7 (Fla. 2000). By adding an "accuracy requirement" to the Florida Constitution, the Supreme Court declared a constitutional amendment passed by 72.8 percent of the voting public unconstitutional.
Delgado v. State, 776 So.2d 233 (Fla. 2000). Adding the word "surreptitiously" to the burglary statute, resulting in the setting aside of two murder convictions.
D'Amario v. Ford Motor Company, 806 So.2d 424 (2001) (joined with General Motors Corporation v. Nash) Comparative negligence applies in product liability cases, yet not in crashworthiness cases. The court went shopping in other state courts to determine the majority view ... and then adopted the minority view.
Owens v. Publix Supermarkets, Inc., 802 So.2d 315 (Fla. 2001). (joined with Soriano v. B&B Cash Grocery Stores, Inc.)(superseded by statute) The wholesale rewriting of Florida's premises liability law, without regard to precedent or the Legislature.
Clay Electric Cooperative, Inc. v. Johnson, 873 So.2d 1182 (Fla. 2003). Recognizing a new legal duty where one has never been recognized before ... and in so doing, refusing to consider public policy consequences.
 
Breaux v. City of Miami Beach (joined with Poleyeff v. City of Miami Beach), 889 So.2d 1059 (Fla. 2005) Exposing local governmental units to greater tort liability through the expansion of prior Florida court decisions. "... another example of the Supreme Court expanding precedent well beyond the original case to reach a desired result." 
Aguilera v. Inservices, Inc., 905 So.2d 84 (Fla. 2005) Ignoring the exclusivity of the Workers' Compensation Act by establishing a new tort action for improper claims handling by a workers' compensation carrier. "This case is one of the most blatant examples of the judicial activism by the Florida Supreme Court."
Bush v. Holmes, 919 So.2d 392 (Fla. 2006) By creating a new constitutional mandate, the court held invalid a scholarship program allowing students in chronically failing public schools an opportunity to either attend a better performing public school or receive a voucher to attend a private school. The court held that the Opportunity Scholarship Program "was invalid because the public school system is the 'exclusive means set out in the constitution for the Legislature to make adequate provision for the education of children.' This came as quite a surprise to court-watchers, Pero wrote, considering there is no such express language or reasonable implication found anywhere in Florida's constitution." 
"There should be no better reminder than Monday's Supreme Court decision to show us how critical it is to get out the vote,"  said Tampa attorney Martin Garcia, former chairman of the Florida Supreme Court Judicial Nominating Commission, "We just saw in the Kavanaugh hearing how important the selection decision is and what long-term  implications are involved."
Republican Party of Florida Chairman Blaise Ingoglia was more specific: "Andrew Gillum would appoint radical, activist justices who would legislate from the bench and work to eliminate school choice, erode pro-life principles and impose big-government ideology on our state. Ron DeSantis is an attorney, Iraq veteran and former Navy JAG officer who knows the importance of appointing strong constitutionalists to the bench.
Make no mistake: Thanks to this ruling by the Florida Supreme Court, the election is no longer a simple contest between left and right. It's between the rule of law and the rule of lawlessness.
The choice is that simple. And that important.
Forget the Red Wave. We need a Tsunami.
Reach Nancy Smith at nsmith@sunshinestatenews.com or at 228-282-2423. Twitter: @NancyLBSmith
---
READ MORE FROM SUNSHINE STATE NEWS
Florida Supreme Court Hands Selection of Next 3 Justices to New Governor