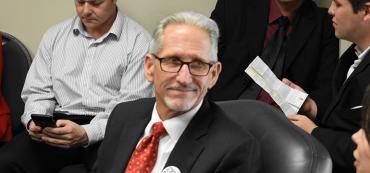 Bob White
GOP activist Bob White, the chairman of the Republican Liberty Caucus of Florida (RLCF), announced on Monday that he is running for governor in 2018 when Gov. Rick Scott faces term limits. 
White, who also leads Republican Liberty Caucus of Central East Florida (RLCCEF) and the founder of the Liberty Catalyst Fund (LCF) which works "to educate voters on issues of liberty, freedom, constitutional integrity and limited government" and "promote candidates that demonstrate a commitment to these principles and oppose candidates that do not," has been active in recent months, opposing Scott's call for more funding for Enterprise Florida and Visit Florida. In recent years, White has been a vocal champion of campaign finance reform and elections reform. 
"I'm running for Governor because I love Florida. I've been a Floridian since the day I was born. I can't imagine living anywhere else," White wrote in an open letter to Floridians announcing his candidacy. "I grew up in Polk County, in the heart of the Florida citrus industry. As teenagers, we earned our spending money picking fruit, pruning trees, and moving irrigation pipe before and after school. We even worked 'firing' the groves when the temperatures dropped below freezing. As a fourth generation Floridian, some of my fondest childhood memories are of family reunions on the shores of Silver Lake, near Palatka, or at my grandparent's home in Okeechobee.
"To be sure there are places in Florida where that idyllic lifestyle still exists," White continued. "I hope we never lose that part of our heritage. But the reality is that times have changed. Florida is now the third largest state in the nation and is experiencing every advantage and disadvantage that kind of population growth inevitably brings. Growth presents opportunities and challenges. We need a government in Tallahassee that embraces the opportunities and rises to the challenges! Sadly, that's not what we've been getting. I aim to change that.
"The people of Florida have lost their voice in Tallahassee," White insisted. "It's been drowned out by politicians pandering to the dark money politics of special interest groups. Millions of dollars in campaign cash are being laundered through political committees (PCs) that are able to accept unlimited contributions from rich and powerful special interests. They make exorbitant donations to each other in order to keep the dark money off campaign finance reports, effectively hiding the source of the donations from the voter. Trust me, the politicians keep track of who they owe political favors to and legislate in their favor.
"There's a much too powerful political class in Florida," White continued. "It consists of the politicians, the lobbyists, and the rich and powerful corporations and special interests they represent. It's an exclusive club and you're not welcome. In Tallahassee, it's their will be done, not yours.
"My campaign will be about changing that environment," White concluded. "The special interests will have their champion. Politicians will be lining up to do their bidding. The people need a champion too. I'm running for Florida. I'm running for you! I'll be your champion! I hope you'll join us."
White will kickoff his campaign at the Republican Liberty Caucus' national convention in Orlando on Saturday. Alex Snitker, who was the Libertarian Party's U.S. Senate candidate in 2010 before moving to the GOP, is White's campaign manager. 
Florida Agriculture Commissioner Adam Putnam launched his bid for the Republican nomination earlier this month. Other possible Republican candidates include U.S. Rep. Ron DeSantis, state Sen. Jack Latvala and state House Speaker Richard Corcoran. 
---
READ MORE FROM SUNSHINE STATE NEWS
John Rutherford Pushes for Law Enforcement to Work Together to Monitor Terrorists