October 19, 2017 - 6:00pm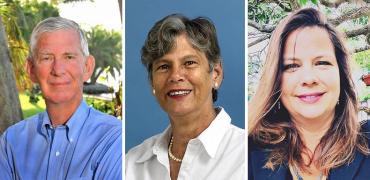 Nat Reed, Maggy Hurchalla and Lisa Interlandi
Lo and behold, we have a new player in aggrieved Lake Point's 4-year-old, high-profile lawsuit saga against Martin County, already up to its eyeballs in court costs and public records violations.
Who is it? Who cometh at the 11th hour? The Everglades Law Center, Inc. (ELC), Winter Haven-based with an office in North Palm Beach and an agenda heavily funded by the Everglades Foundation.
On Oct. 4, while Martin's legal team was negotiating a lawsuit settlement with rock mine Lake Point, Lisa Interlandi, the Law Center's senior staff counsel, submitted a public records request for "a copy of the transcripts of any/all closed door attorney-client sessions held puruant" to the case "from which the South Florida Water Management District was dismissed as a party" on Sept. 1.
You have to ask yourself, at this point, why?  All business leading up to the settlement was properly noticed and fully transparent.
I have my own theory. I think it was to plant a seed in Martin citizens' minds that Lake Point really is a bad project, that there was dirty dealing behind closed doors when SFWMD and the rock mine worked out their settlement. 
I smell a desperate Maggy Hurchalla behind this move.
In the first place, this case has corkscrewed into a public relations nightmare for Hurchalla, cemented in local lore as Martin County's environmental savior -- until now. The Lake Point case is cracking the cement. The more time that passes, the worse the news gets for the figure who led Martin County's shadow government until the last election. Last we read, motions relating to Lake Point and the "tortious inference" Hurchalla is being accused of have so far cost Martin County at least $5 million -- or about $120 per household in this county of 151,000. The lawsuit was supposed to go to trial last Monday but it was postponed until Feb. 5. Presumably the postponement was granted to give the county and Lake Point more time to work out their settlement.
In the second place, a grand jury is meeting on public records violations in the Lake Point case to see if criminal charges should be filed. (The lawsuit also accuses county commissioners of denying they conducted public business on private email accounts, then holding mail back once it had been discovered, and in the case of Commissioner Sarah Heard, destroying the record trail.) Hurchalla, who called herself "Deep Rockpit" in email to commissioners she allegedly advised, is central to the case. 
In the third place, the most telling current event to explain Interlandi's ruse is a letter written Oct. 4 by one of South Florida's most influential, old-money figures, Jupiter Island's Nat Reed. Reed served as assistant secretary of the Interior for fish and wildlife and parks in the Nixon and Ford administrations. He is a founding member of the Everglades Foundation and 1000 Friends of Florida. Back in the day -- perhaps still -- Reed picks up the phone,  Army boats get turned around. Just like that. I've seen it.
And, just as everybody in Martin County knows Hurchalla by "Maggy," her first name, Martin Countians also know exactly who you mean when you talk about "Nat." These are two people who command respect, command attention. Heck, they just command.
Hurchalla tended Jupiter Island well for the 20 years she was a Martin County commissioner  -- her largest donations came from the island Reed's parents bought and developed. Certainly, Nat Reed and Maggy Hurchalla have shown over the years they have each other's back.
My point here is to explain why I believe Reed is asking the Everglades Law Center and the most powerful environmental groups the Everglades Foundation supports to get involved in the Lake Point case. His letter is a rallying cry: Time to bail out Maggy. 
All signs point to a diversion tactic  ... by tainting Rock Point and scaring citizens, maybe you polish "Deep Rockpit"  back to a fine shine.
Reed never mentions Hurchalla's name in his letter. He doesn't have to. Early on he says, "The potential sale of public water is illegal and should not be permitted. The terms of the settlement between the South Florida Water Management District and Lake Point are outrageous and could cost the taxpayers of the District millions of dollars."
Making it sound as if the Water Management District has agreed to let Lake Point operate some crooked scheme and rob Martin County at the same time. Reed served on the SFWMD Governing Board for many years. He knows the District never could have allowed an illegal activity in the settlement, even if it was so inclined. 
After he read the letter, SFWMD General Counsel Brian Accardo said it was disappointing coming from a man who cares so deeply about the Florida environment.  "His letter was inflammatory, designed to prey upon the uninformed. It's still illegal to sell water, West Palm Beach doesn't need their water as it did four years ago and they would have to get all kinds of permits -- it would be a nightmare. 
"There is no downside to this project," Accardo said. "The District will receive full ownership of the mined property and will be able to build a storage project that could hold 3,000 to 4,000 acre-feet of Lake Okeechobee water that otherwise would be bound for the St. Lucie Estuary."
Take a look at Reed's letter for yourself.  He wrote to Manley Fuller, president of the Florida Wildlife Federation; Ryan Smart, president of 1000 Friends of Florida; and Eric Draper, executive director of Audubon Florida -- with cc's to Everglades Foundation CEO Eric Eikenberg and Everglades Law Center Executive Director and General Counsel Richard Grosso. It's in the "Download" attachment below at the end of this commentary. Judge its purpose for yourself. Certainly it coincides with Interlandi's request for attorney/client public records from the SFWMD-Lake Point settlement negotiations. It's even dated the same day.
Reed's last sentence, a subtle, withering command: "Please consider this a request of great personal importance to me and to your members in both Martin County and within the South Florida Water Management taxing district." I almost wanted to salute it.
Interlandi has to know the District isn't likely to turn over the settlement transcripts right now because Lake Point litigation hasn't concluded and, as such, their settlement records are protected from public view.  Accardo told his Governing Board members in a letter Tuesday, "the mediation privilege survives our settlement."
Accardo figures he's between a rock and a hard place. 
"The District is in an awkward situation," he wrote, "inasmuch as we do not want to violate public records law, but we do not want our settlement undermined, nor do we want to undermine Martin County's potential settlement. And I'd rather not be sued by Lake Point for turning over what they consider confidential documents.  
"The best path forward," he said Tuesday, "is for the District to ask the Martin County court to clarify our rights and responsibilities with regard to the ELC's request. Martin County and Lake Point agree. We therefore will file a request for declaratory relief by close of business today."
Which is exactly what Accardo did. It is now up to the court to decide whether the SFWMD-Lake Point transcripts are public record at this time. In the meantime, you'll find a more explanatory Aug. 24 news story about the settlement here.
Reach Nancy Smith at nsmith@sunshinestatenews.com or at 228-282-2423. Twitter: @NancyLBSmith. In the interest of full disclosure, Smith worked for The Stuart News for 28 years, from 1977 until 2005.