This column is a vehicle for a number of items in a bits-and-pieces, strictly opinion, sometimes irreverent format. Look for "Just Sayin'" to run once a week in this spot.
Barack Obama's Anti-Israel Legacy
Many of my colleagues tell me their biggest beef with the Obama administration is the doomed Affordable Care Act.
It's not mine.
For me, the most egregious failure of this administration has been President Obama's determination at every turn to pull the rug out from under the state of Israel.
In his last month in office, the outgoing president takes unfriendly action against the Jewish State to leave his mark on the Middle East.
Sadly, Israel has been right to worry about its increasingly precarious position in the region because as history has proven, Barack Obama has been the most anti-Israel president of all time. Yes, of all time.  Consider --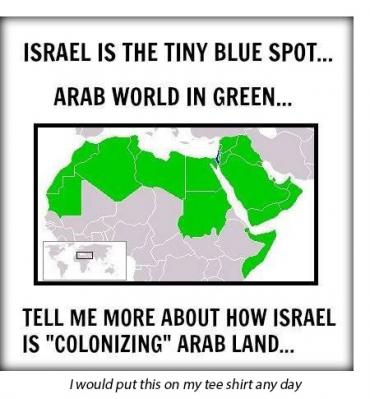 Obama signed a treaty that enshrines an Iranian path to a nuclear weapon, and in the process hands over tens of billions of dollars to fund Iran's terrorist activities.
Over and over again he belittled Israel's image on the world stage, calling it no more than an outgrowth of the Holocaust, referring to it on several occasions as "an occupier."
He once shooed Benjamin Netanyahu out the side door of the White House, tried to undercut the prime minister's speech to Congress and then had the cheek to deploy a team to Israel to try to defeat him in an election. 
And of course, the coup de grace: Obama stabbing Israel in the back at the United Nations.
Netanyahu isn't perfect, I admit, but he's not the enemy. Please look at the map on this page. Look at the position Israel is in. It stands alone holding the Middle East together. For us.
Thank God for Florida's congressional delegation, most of whom have pushed back hard since the U.N. vote and the United States' failure to veto.
The Obama administration's last-gasp effort to promote a two-state solution by abandoning Israel at the United Nations is based on a fantasy. It presumes that Hamas, which rules in Gaza, and Fatah, which governs the Palestinian territory on the West Bank, will suddenly join forces and create a unified entity once Israeli settlements are removed.
That presumption is crazy. It ignores Palestinian rejections of prior proposals, most prominently at Camp David with President Clinton. And it ignores the current reality that there already is a Palestinian state in Gaza, where President Mahmoud Abbas of the Palestinian Authority is hardly welcome. Shouldn't realistic policy discussions relate to a three-state outcome?
I want a president who appreciates everything Israel is to the Free World, and to the United States in particular.
I want a president who says and shows the Arab World that Israel is permanent, strong and tough. And that no matter how many U.N. resolutions are passed, the Palestinians' foul dream of eliminating the Jewish state ain't gonna happen. No way, no how.
I want a president who shows Palestinian leaders what they win is release from a perpetual Ground Hog's Day of death, left to focus instead on building their own policy, society, economy, and culture.
After the leadership recognizes this reality, the Palestinian population at large will follow, as will eventually other Arab and Muslim states, leading to a resolution of the conflict. 
I've been wanting to say this for a long time, and since so many of the Florida congressional delegation are rising up to make my case for me, I thought it was time I joined in.
Now, I don't know what the Trumpies are going to do. Their Middle East policies at this point are pretty obscure. But Donald Trump himself adamantly opposed United Nations Resolution 2334 and by choosing David M. Friedman as ambassador to Israel, he at least tells me he's open to a much more favorable approach to Israel than President Obama took.
Sadly, the U.N. resolution, which Obama allowed to pass, calls on Israel to "immediately and completely cease all 'settlement' activities in the 'occupied' Palestinian territory, including East Jerusalem." It was a vote of no-support, no-confidence for Israel. 
This is the parting gift Obama hands the Trump administration, an act that undermines its prospects of advancing peace.
Nelson Joins the Behind-Closed-Doors Huddle to Save Obamacare
The future of Obamacare, the president's signature accomplishment during his two terms in the Oval Office, isn't looking bright. Donald Trump made one of his rally cries a promise to dismantle the Affordable Care Act as one of the first orders of business after his inauguration.
That doesn't mean Obama won't go down swinging. But Sen. Bill Nelson?
Apparently Nelson participated in a private, partisan strategy session behind closed doors with President Obama and other pro-Obamacare Democrats to discuss how to protect the failed and expensive health care law they enacted in 2010.
The Senate Leadership Fund (SLF), a conservative non-profit independent 527 political organization, reported on the meeting Wednesday -- and roundly condemned it.
Nelson was one of 60 senators to vote for Obamacare, and has repeatedly voted to keep the law in force despite rising premium costs for Florida families and businesses.
Said SLF spokesman Ian Prior, "While Bill Nelson promotes himself as a bipartisan 'moderate' to Floridians, in Washington he's having back-room partisan meetings with President Obama and other liberals, in a last-ditch effort to save the disastrous health care law they rammed down Floridians' throats seven years ago.
"That's the kind of phony politics that Americans rejected in November, and we will make sure Nelson pays a heavy price for his dogmatic support of Obamacare." 
Reach Nancy Smith at nsmith@sunshinestatenews.com or at 228-282-2423. Twitter: @NancyLBSmih