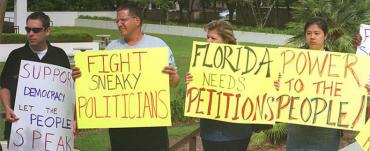 (photo of petition protesters) Credit: AP/SSN archives
Three more potential constitutional amendments could soon clear the first obstacle for qualifying for the November 2020 ballot, but new petition-gathering rules adopted by state legislators and signed into law by Gov. Ron Desantis will make it less likely they'll get much further.
State law requires petition drives to collect 76,632 signatures from verified Florida voters to trigger a Supreme Court review. If justices sign off on a proposal's language, supporters must then submit 766,200 signatures by Feb. 1, 2020, to get on November's ballot.
As of June 17, four of 26 "active" petition drives posted on the Florida Division of Election's (FED) website had met that first benchmark of 76,632 signatures to warrant a Supreme Court review.
Last month, sponsors of proposed measures to require the state Constitution read that "only citizens" can vote submitted 85,695 signatures, and to expand Medicaid under the ADA submitted 82,145 signatures to qualify for review.
They join a petition drive to raise the minimum wage with 281,420 signatures and one to encode in state law the "Right to Competitive Energy Market" with 321,433 signatures.
According to the FED, the four could soon be joined by three others clearing the first hurdle of a Supreme Court review by gathering 76,632.
As of June 17, proposals to ban assault weapons had 74,624 signatures; calling for open primaries in state elections had 71,104 signatures; and a 2016 effort to regulate marijuana in a "manner similar to alcohol" had 62,911.
But the state's new rules regulating petition-gathering dramatically change on or about July 7, 30 days after Desantis signed them into law on June 7.
The new rules essentially extend the state's voter registration system for absentee ballots to petition-gathering, requiring every citizen initiative organization sponsoring a signature-drive to have its own numbered, serialized petition provided by county elections offices.
It requires petition-gathers to register with the state and have a permanent Florida address, effectively barring out-of-state entities from ballot campaigns. The bill prohibits signature gatherers from being paid on a per-petition basis.
Petition-gatherers will also face fines and criminal charges for violating the new regulations, including $50 fines for signed petitions turned in after 30 days and $500 fines for petitions never turned in.
Petition-gatherers now say they'll need at least 1.1 million signatures to ensure 766,320 are verified, and will need to finish collecting signatures by the end of 2019 to give elections supervisors the required 30 days to verify them before Feb. 1.
The new law doesn't erase signatures that have already been gathered but will require all collected afterward to meet the new standard, making signature-gathering before July 7 a priority for prospective amendment sponsors.
The more onerous rules will likely whittle back the number of proposed constitutional amendments on the November 2020 ballot from as many as 10 to as few as one or two.
There are 26 "active" sanctioned petition drives listed on the FED website. Of those 26, at least 16 had not turned in any signatures or any nominal number of signed petitions to be verified.
A proposed measure to expand medical marijuana to mental health patients had only 291 valid signatures while a petition drive to allow medical marijuana patients to grow their own medical marijuana had 519 valid signatures. A proposed "Classroom Acknowledgement Amendment" has one signature validated.
Meanwhile, sponsors of approved petition drives for proposed constitutional amendments requiring all toll roads to be approved by voters, calling for open primaries for Congressional and Presidential elections, mandating the Florida Department of Law Enforcement conduct its own background checks on gun buyers, defining "personhood," expanding vote by internet and installing a Florida Faith Amendment in state constitution had not, as yet, submitted signed petitions for validation.
Of the 10 that show relatively recent activity, at least three are petition drives that have been reauthorized to get a measure on the ballot for more than two election cycles, including a 2014 effort to limit government and utilities from imposing barriers on solar electricity that has 291,511 signatures that were last verified in 2015.
A proposed "Right to Adults to Cannabis" constitutional amendment has 24,868 signatures but 9,861 may be expired since their last validation in 2015, and a 'Single Payer Health Care' measure has collected 22,867 signatures – many now invalid since 1995.
For a glance at some of the petition drives that could potentially get on the November 2020 ballot even with the new rules, click here.
John Haughey is the Florida contributor to The Center Square.