November 11, 2017 - 6:00am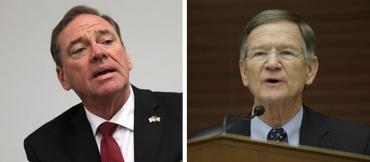 Neal Dunn and Lamar Smith
From his perch on the U.S. House Veterans Affairs Committee, U.S. Rep. Neal Dunn, R-Fla., is calling for the National Science Foundation (NSF) to come up with a strategy on how to bring more veterans into the science, technology, engineering, and mathematics (STEM) fields.
Dunn introduced his "Supporting Veterans in STEM Careers Act" on Thursday which would make the NSF "develop a veterans outreach plan and publish data on veterans' participation in  in its annual 'Indicators' report." Dunn's proposal also reforms various NSF scholarship and grant programs to include more veterans and has the White House Office of Science and Technology Policy study how to bring more veterans into STEM fields.
When he brought out the bill, Dunn reeled in a major cosponsor as U.S. Rep. Lamar Smith, R-Texas, the chairman of the U.S. House Science, Space and Technology Committee, stood behind the bill. Dunn's proposal was sent to the House Science, Space and Technology Committee on Thursday. 
"Our service members should have every opportunity to succeed when they transition to civilian life," Dunn said when he unveiled the bill. "This bill ensures our government goes above and beyond to bring STEM career opportunities to our veterans. By educating more veterans to become STEM professionals, we help keep our promise to those who serve and also maintain America's competitive edge as a global technology leader. I appreciate Chairman Smith's leadership and support for this effort."
"Encouraging veterans to enter careers in STEM, including computer science, will help them better transition to civilian life," Smith said. "They will be able to put their training and experience in military service to new and important uses. They will help America stay competitive in research and innovation on a global scale. I look forward to approving Rep. Dunn's bipartisan bill in the Science Committee soon."
Other cosponsors include U.S. Rep. Barry Loudermilk, R-Ga., and U.S. Rep. Mark Takano, D-Calif., the number two Democrat on the House Veterans Committee. So far, there is no version of the bill over in the Senate.