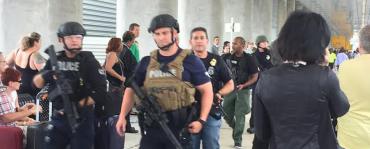 UPDATED: In a 5:15 p.m. press conference at Fort Lauderdale Hollywood International Airport, Gov. Rick Scott called the deadly mass shooting at the airport earlier in the day an "evil act," that Florida will not tolerate. "My heart goes out to every family impacted," he said. "We won't rest until we make sure we've done everything in our power to make sure this never again happens here."  
The Broward Sheriff's Office confirmed five people are dead and 13 were injured, including eight who were hospitalized, after a gunman opened fire in the baggage claim area of Broward County's largest airport Friday.
The governor, who flew from Fort Myers to Fort Lauderdale at 1 p.m., said he had been in touch with President-elect Donald Trump and Vice President-elect Mike Pence "several times" since the incident, and all agencies were cooperating.
Meanwhile, one person is in custody and the airport has been shut down after what first was reported as an "ongoing incident" in the Terminal 2 baggage claim area of the airport. 
"We have multiple people dead and a subject in custody," said Joy Oglesby, spokeswoman for the Broward Sheriff's Office.
The shooter was identified as Esteban Santiago. He was carrying a military ID. Reports emerged later that Santiago checked his bag when flying from Canada. Law enforcement officials told media the shooter loaded the gun in the men's bathroom and then opened fire in the baggage claim area. They are investigating claims that Santiago and at least one other passenger on the flight from Alaska "got into an altercation in the air." But no motive has been confirmed.
Former White House Press Secretary Ari Fleischer was in the airport as the shots rang out. 
Flesicher began tweeting the scene he was witnessing at the airport, which serves as one of South Florida's major airports. 
"I'm at the Ft. Lauderdale Airport," he tweeted. "Shots have been fired.  Everyone is running."
Fleischer said the police said there was one shooter and five victims. 
As of 1 p.m., Flescher said the scene was "calm," but said police were not allowing people in the airport to leave. 
According to the Sun Sentinel, images of the airport showed around 100 people waiting on the tarmac to evacuate.
All airport operations were temporarily suspended.
"We have initial reports of a shooting at Fort Lauderdale International Airport," Jackie Schutz, spokeswoman for Gov. Scott wrote. "At this time, state law enforcement do not have confirmed information on fatalities, injuries or motive. Governor Scott is currently traveling to Fort Lauderdale to be briefed by law enforcement. We will continue to provide details as we receive them."
President-elect Donald Trump said he had been in contact with Scott over the shooting. 
"Monitoring the terrible situation in Florida," Trump tweeted. "Just spoke to Governor Scott. Thoughts and prayers for all. Stay safe!"
President Barack Obama had also been informed of the shooting, according to the White House.
Concluding his press conference, Scott reminded Floridians he's very aware of what his No. 1 job as governor is: "It's to keep our people, residents and visitors, safe."
This is a breaking story. Check back for updates. 
Reach reporter Allison Nielsen by email at allison@sunshinestatenews.com or follow her on Twitter: @AllisonNielsen.