January 24, 2019 - 5:45pm
Mike Ertel
Thursday morning Michael Ertel was secretary of state, testifying before a legislative committee on election litigation; on Thursday afternoon he was the former secretary, his title and new position gone.
He was in office for less than a month.
"I am submitting my resignation as Florida secretary of state effective immediately. It has been an honor to serve you and the voters of Florida," he wrote in a succinct letter to Gov. Ron DeSantis.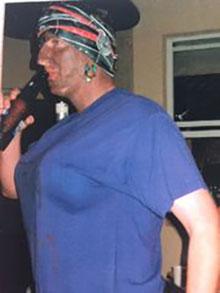 Ertel, 49, had resigned, perhaps at the governor's urging, after photos from a 14-year-old Halloween Party emerged showing the former Seminole County elections supervisor in a less-than-sensitive costume. He was dressed as an African-American woman wearing blackface and red lipstick, earrings and a New Orleans Saints bandana, with falsies under a purple T-shirt that had the words "Katrina victim" written on it. 
The Tallahassee Democrat, the media outlet that broke the story, said Ertel identified himself when the newspaper showed him the photos. The Democrat wrote that it shared the photos Thursday with the Governor's Office, which was seeing them for the first time.  
DeSantis accepted the resignation without an argument. He told reporters it was best for Ertel to make a quick, clean break, saying, "I want people who can lead and not have any of these things swirling around."
DeSantis did not explain why the photos were not caught during vetting, before Dec. 28, 2018, when Ertel was appointed.
Ertel could not be reached for comment Thursday afternoon.
Along with overseeing elections, Ertel had been charged with running a state department that also includes the Division of Corporations, the Division of Cultural Affairs, the Division of Historical Resources and the Division of Library and Information Services.
He was first appointed as Seminole County supervisor by then-Gov. Jeb Bush and then was elected by the voters four times. He replaced Secretary of State Ken Detzner who was paid $142,000 a year.
Ertel had become quickly immersed in moving forward with Amendment 4, the ballot measure passed in November that will automatically restore the voting rights of most felons after they have fulfilled their sentences.
Ertel, who grew up in Seminole County, served eight years with the U.S. Army. His service included a stint as a public-affairs representative, and he was part of Operation Able Sentry in which the Army set up a base in Macedonia to monitor sanctions against Serbia.
In returning to Seminole County, he remained in the public-affairs field, serving in that role for Seminole County before the appointment by Bush.
After the 2012 presidential election, in which Florida was criticized nationally for long lines and other issues that caused irritation for voters, Ertel defended how the election was conducted.
"We had a good election statewide in Florida; we have to remember this," Ertel told members of the Senate Ethics and Elections Committee in January 2013. As to late-night jokes at the expense of the state, Ertel added, "I don't care what Jay Leno thinks. I care what Florida voters think."
In July 2017, Ertel took to Twitter as privacy concerns mounted about data breaches and identity theft in response to a special commission created by President Donald Trump that sought voter information -- including dates of birth, party affiliation, and the last four digits of Social Security numbers.
Reach Nancy Smith at nsmith@sunshinestatenews.com or at 228-282-2423. Twitter: @NancyLBSmith