October 16, 2017 - 9:00am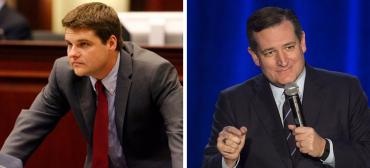 Matt Gaetz and Ted Cruz
In the aftermath of the Trump administration announcing that the U.S. was cutting off its support for the United Nations Educational, Scientific, and Cultural Organization (UNESCO) due to its "anti-Israel bias," a Florida congressman has introduced a resolution condemning that international organization. 
Towards the end of last week, U.S. Rep. Matt Gaetz, R-Fla., brought out a resolution urging the U.S. to continue to support Israel and fight against UNESCO's efforts against that nation. 
Gaetz took to the House floor on Thursday to make the case for his resolution. 
"I rise today to support our friend and ally Israel and to stand for the obvious proposition that Israel, the Jewish people, have an ancient connection to the city of Jerusalem," Gaetz said. "This connection has been forged through millennia shared faith and shared history yet the U.N. is actually trying to rewrite history and condemn Jerusalem and call it an occupying power in Jerusalem and prevent scientists from excavating even though past findings have been significant. 
"They have been silent when Israel's culture has been attacked including the desecration and burning of holy sites," Gaetz continued. "Each year there are no horrors to the U.N. their cruelty and attempts to erase history and anti-Semitism cannot be tolerated any longer. Today I'm introducing a resolution reaffirming the connection of the Jewish people to the city of Jerusalem and condemning UNESCO's attempts to punish and delegitimize Israel.  I encourage my colleagues to show solidarity with Israel and to support the president's removal of the United States from UNESCO and to support this resolution I proposed."
Gaetz will soon have help on the other side of Capitol Hill as U.S. Sen. Ted Cruz, R-Texas, is expected to introduce a companion resolution this week. 
"The Trump administration has demonstrated strong moral clarity in deciding to withdraw and continuing to withhold U.S. taxpayer dollars from UNESCO as a result of its relentless hostility towards our close ally Israel," Cruz said. "I am proud to have worked with Rep. Matt Gaetz on this bicameral resolution that formally rejects UNESCO's shameful and absurd attempts to deliberately erase the history of Jerusalem, Israel's eternal capital. This resolution reaffirms the profound historical connection of the Jewish people to Jerusalem that has existed for thousands of years, describes archeological excavations at the City of David that have revealed incontrovertible, physical evidence of the Jewish, as well as Christian ties to Jerusalem, and denounces efforts at UNESCO to delegitimize Israel and deny historical truth."
U.S. Sen. Marco Rubio, R-Fla., who sits on the Senate Foreign Relations Committee, cheered the Trump administration for withholding support for UNESCO. 
"As ISIS commits genocide and destroys historical and cultural heritage sites throughout the Middle East, the majority of UNESCO's member states have chosen instead to advance a discriminatory and counterproductive anti-Israel agenda, including the repeated passage of measures that deny any connection between Jews and Christians and the Temple Mount, the Western Wall, and other holy sites in Jerusalem," said Rubio. "Until UNESCO's member states end their anti-Israel agenda, the Trump administration is right to withdraw the United States from UNESCO and uphold U.S. laws that forbid American taxpayer money from going to this organization."
During his time in the Senate, Rubio opposed the Obama administration's efforts to fund UNESCO and, earlier this year, he paired up with U.S. Sen. Christopher Coons, D-Del., in sending a letter to UN Secretary-General António Guterres on the UN's treatment of Israel. All 100 members of the Senate signed off on the letter. 
"The United States co-founded the United Nations with the intention of saving future generations from war and reaffirming fundamental human rights," the senators wrote towards the end of April. "While much good is being done and has been done by the body, many of its member states and agencies are using the U.N.'s privileged platform to advance an anti-Israel agenda.  Too often, the U.N. is exploited as a vehicle for targeting Israel rather than as a forum committed to advancing the lofty goals of its founders. These actions have at times reinforced the broader scourge of anti-Semitism, and distracted certain U.N. entities from their original missions.
"Although, as Republicans and Democrats, we disagree on many issues, we are united in our desire to see the United Nations improve its treatment of Israel and to eliminate anti-Semitism in all its forms," the senators continued. "Through words and actions, we urge you to ensure that Israel is treated neither better nor worse than any other U.N. member in good standing.  To that end, we commend the words of our nation's Ambassador to the U.N., Nikki Haley, who recently stated, 'It is the U.N.'s anti-Israel bias that is long overdue for change.'"
The senators called for eliminating standing committees "which far too often serve no purpose other than to attack Israel and inspire the anti-Israel boycott, sanctions, and divestment (BDS) movement" and urged UNESCO to stress Jerusalem's Christian and Jewish heritage. Turning to other UN bodies, the senators called for reforming the United Nations Relief and Works Agency for Palestine Refugees in the Near East (UNRWA) and the U.N. Human Rights Council (UNHRC) to ensure they stop anti-Israel activities. 
From her perch as chairwoman of the U.S. House Middle East and North Africa Subcommittee, U.S. Rep. Ileana Ros-Lehtinen, R-Fla., has also been active on the matter. At the end of April, Ros-Lehtinen  brought out the "Promoting Equality and Accountability at the United Nations Act." Ros-Lehtinen reeled in several House Republicans as sponsors including U.S. Reps. Gus Bilirakis, Ron DeSantis and Ted Yoho from Florida. 
"The anti-Israel agenda at some United Nations agencies is toxic and has been allowed to continue for too long," Ros-Lehtinen said. "At bodies like UNESCO or the UN Human Rights Council, there isn't even a pretense of neutrality when it comes to the Jewish State. Continued U.S. engagement at these agencies cannot come unconditionally, otherwise we only serve to legitimize this anti-Israel bias. The U.S. taxpayers expect us to be responsible with their money and continuing to fund agencies that work against us, our allies and our interests is not a responsible use of their hard earned dollars. As the major contributor at the UN, America wields considerable leverage and it is time that we use that leverage to bring about reforms."
Last October, Cruz and Ros-Lehtinen teamed up in sending a letter to the UNESCO Executive Board protesting their proposal playing up Jerusalem's Muslim history while playing down its Christian and Jewish heritage. 
---
READ MORE FROM SUNSHINE STATE NEWS
Marco Rubio, Ileana Ros-Lehtinen Call Out UN's Bias Against Israel
Ted Cruz, Ileana Ros-Lehtinen Take On UNESCO Over Jerusalem