January 7, 2019 - 12:45pm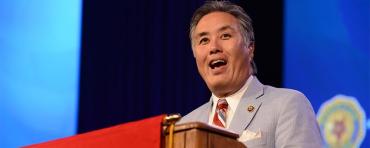 Mark Takano
Now wielding the gavel on the U.S. House Veterans Affairs Committee, U.S. Rep. Mark Takano, D-Calif., started his new duties by hitting the Sunshine State. 
Takano took over on the committee at the end of last week and weighed in on his priorities. 
"This Congress, we have an incredible opportunity to build on this committee's work to guarantee veterans access to high-quality, timely care and the benefits they deserve. Today's veterans population is more diverse than ever before, a testament to the shifting demographic strength of our nation's servicemembers. With these changes will come a new set of challenges for VA," he said when he took the gavel last week. 
"As chairman I will work to develop a 'VA 2030' plan that equips VA with the tools needed to meet these challenges head-on, guaranteeing its success now and into the future," Takano added. "Our committee's commitment to bipartisanship has helped protect VA whistleblowers and student veterans, expand earned benefits, and improve access to care. I look forward to working alongside my colleagues to further reject ideological agendas, and continue placing our service to veterans above ourselves and fulfill our promise to our nation's veterans. Serving as chairman of the House Committee on Veterans' Affairs will be the honor of my lifetime, and I look forward to working closely with our veterans, veterans service organizations, and members on both sides of the aisle and in both chambers to serve and improve the lives of veterans across the country."
Over the past weekend, Takano headed to the Orlando area to visit the VA Medical Center facilities in Lake Nona alongside U.S. Rep. Darren Soto, D-Fla.
Takano said he was impressed with the medical center. 
"It was wonderful to visit the Orlando VA Medical Center in Lake Nona and I am impressed with this state of the art facility and most importantly the medical services, programs, and treatments they offer for our veterans," he said on Saturday. "Not only is the medical center fully staffed, it is also doing an impressive job at retaining employees. We must do more to ensure that throughout the VA Health Administration we work to fill the more than 40,000 vacancies and help deliver timely care for our veterans. I am pleased to see the center's efforts to serve women, minority and LGBTQ veterans and the robust programs that could become examples to other VA medical centers across the country."
"We are honored to host U.S. House VA Committee Chairman Mark Takano in our district and here at the Lake Nona Medical Center today," Soto said. "As the top Democrat in Congress overseeing Veterans Affairs and visiting Orlando as one of his first stops, it is just a tremendous honor and opportunity for the veterans of our region. We are very grateful for Chairman Takano's hard work to help increase doctor residencies at Lake Nona's VA from 24 to 80 doctors over the past three years, as well as his efforts to address veteran suicide prevention, healthcare waiting lists, and combat homelessness. We also appreciate his commitment to strengthen VA outreach to women, minority and LGBT veterans. I look forward to working together to continue improving the quality of life for Central Florida's veterans. "