December 20, 2017 - 7:00pm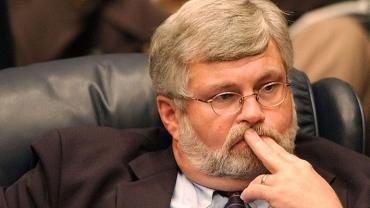 Jack Latvala
The question is no longer whether Sen. Jack Latvala will resign or fight. We're way past that now. Latvala, 66, resigned Wednesday from the Senate effective Jan. 5, four days before the start of the 2018 legislative session -- no surprise to anyone except maybe his lawyer, Steve Andrews.
The once-powerful Clearwater Republican has more to worry about than saving his long career in Florida politics.
Like how soon the authorities will turn up at his door to arrest him on charges of public corruption, extortion or similar, and lead him away in handcuffs.
When Special Master Ronald V. Swanson produced evidence of "quid pro quo" sexual harassment, he opened the door to another avenue of investigation.
If, as a Latvala accuser testified, the senator "expressly intimated to her on multiple occasions, that if she engaged in sexual acts or allowed him to touch her body in a sexual manner he would support particular legislative items for which she was lobbying" ... if that is so, then how long before the investigation moves from sex to money? 
How long before investigators look at the $4.7 million Latvala has stashed in his Florida Leadership Fund? 
I can hear them asking themselves, if the Senate appropriations chair can trade a policy favor for a cuddle, then was he also shaking down lobbyists and lawmakers for money?
Are we going to find Florida Leadership Fund donors coming forward to report publicly what so many of them have complained about for years -- that if you want a bill passed, you'd better dig out your checkbook.
It will also be interesting to find out how many of his fund donors will now ask for their money back. Not that he has to give it back if they ask, there's no law. He can keep the whole $4.7 million. 
He can turn it into a political retaliation fund, donate big to the opponents of the people he believes screwed him. 

He can use it to get his son Chris elected to his Senate seat.

He can use it to finance his next political adventure.
Last week I asked some of Latvala's biggest fund donors if they would ask for the money back -- considering their support might be regarded as tacit approval of sexual harassment. Most of them told me they would wait to see what comes of the special master's report. I'll certainly be asking again before Jan. 5.
Here are just a few of Latvala's Florida Leadership Fund donations in the last four years: Florida Hospital Association, $123,000; U.S. Sugar Corp., $95,000; Florida Fire PAC, $88,000; NBC Universal Media, $37,500; Sugar Cane Growers Cooperative, $13,000; Walgreens, $5,500; Professional Firefighters/Paramedics of Palm Beach County, $5,000; Dade County Firefighters, $2,500; Broward County Professional Firefighters & Paramedics Local 4321, $2,500.
In the same vein -- more evidence likely to catch law enforcement's eye -- came from a second report on the sexual harassment allegations, this one from professional, independent, third party investigator Gail Golman Holtzman, Esq., of Jackson Lewis, P.C.
"One witness reported speaking to a Senator and a member of the House of Representatives who advised the witness that after this investigation began, Senator Latvala told the Senator and member of the House that if they took adverse action against him, he would take them down with him," wrote Holtzman. "The witness also stated that two to three lobbyists told the witness that a former staff member and close colleague of Senator Latvala contacted the lobbyists to deliver the message not to cross Senator Latvala because he will be back.
"According to the witness, those with whom the witness has spoken about this matter expressed fear of talking about this matter because of the ramifications if Senator Latvala is reinstated as Chairman of the Appropriations Committee. The witness stated that the decision to speak with the investigators was not because of the alleged sexual misconduct, but because of what the witness described as an 'abuse of the power of the office to subvert and suborn the testimony of people who would otherwise report unprofessional conduct.'"
See Holtzman's report in the attachment below or by clicking here.
Latvala's letter of resignation was posted Wednesday on the Times/Herald's online website. "I have never intentionally dishonored my family, my constituents or the Florida Senate," Latvala wrote in the letter. He maintains his innocence.
Gov. Rick Scott's statement, distributed before the resignation, perhaps hastened Latvala's decision not to wait until the Christmas holiday was over to make his decision, as he first intended. "Now that the special master report is complete and probable cause has been found, it is time for Senator Latvala to resign," Scott said. "Resigning is the best thing he can do now for his constituents, colleagues and the state."
Rachel Perrin Rogers, the lone complainant against Latvala whose name was disclosed, issued this statement upon hearing the senator had resigned: 
"Many times, we hear from men who are the fathers of daughters, expressing anger when women are assaulted and harassed. I came forward as the mother of a son. I could no longer look myself in the mirror; I could no longer in good faith encourage him to have courage and be kind. Because having courage means standing up against wrongdoing. Especially when others are in harm's way. To the women who have been harmed, I offer support, love and strength."
Senate President Joe Negron, R-Stuart, released a statement of his own: "Senator Latvala made the right decision. At all times during this investigation the Senate has afforded all parties the full and fair opportunity to be heard. The Florida Senate has zero tolerance for sexual harassment or misconduct of any kind against any employee or visitor. The allegations in this complaint, and the resulting Special Master's Report, describe behavior that violates the public trust. ..."
"The sense of relief in the Capitol this afternoon is palpable," a Senate aide told me.
Reach Nancy Smith at nsmith@sunshinestatenews.com or at 228-282-2423. Twitter: @NancyLBSmith