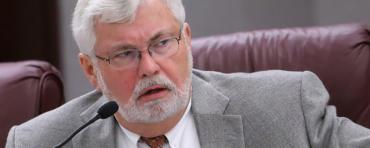 Jack Latvala
Jack Latvala may have bigger political ambitions than the Florida Senate and plans to make an announcement regarding his gubernatorial run next month.
On Sunday, Latvala told over 100 of his closest friends, supporters and political allies at his summer home in Booth Harbor, Maine, that he would make an announcement regarding a possible gubernatorial run Aug. 16.
Latvala had hinted he would make an announcement in August for weeks, but had announced no specific dates until this weekend.
The Tampa Bay Times first reported the news Sunday evening.
According to the Times, the gathering included several of the state's highest-profile Republicans like Senate President Joe Negron, R-Stuart, Bill Galvano, R-Bradenton, and Senate Speaker Pro Tempore Anitere Flores, R-Miami. 
The Clearwater Republican wasn't specific about what the announcement would entail, but the underlying implication is he plans to either run -- or not run -- for Florida governor.
Latvala told the crowd he was waiting until August to announce his run because of Florida's match-for-match public financing laws which begin in September.
If Latvala opts into public matching and limiting his spending, he would be eligible to receive dollar-for-dollar matches for campaign contributions up to $250 and $250 for contributions larger than $250.
If Latvala decides to run, the law would give him a leg up since many of his donations come from smaller donors contributing less money.
Latvala would be the second big-name Republican to jump in the governor's race should he go all in next month. 
Commissioner of Agriculture Adam Putnam was the first GOP candidate to declare he was running for governor and has been working furiously to fundraise for his campaign, already raising $10 million for his gubernatorial bid so far.
House Speaker Richard Corcoran is also said to be eyeing a run for the governor's mansion. Corcoran hasn't declared he's running for governor -- yet -- but he hasn't wasted any time reeling in the dough for a potential gubernatorial bid, raising $2 million last month alone.
Sources told Sunshine State News Latvala said he was "100 percent in" for the governor's race, but not everyone is convinced he will actually run.
Regardless, Latvala has sounded like he's in campaign mode in recent weeks, wasting no time criticizing both Putnam and Corcoran as he lays the seeds for a gubernatorial run.
Speaking with CBS Miami's Jim DeFede earlier this month, Latvala slammed Putnam and Corcoran as "government animals," critiquing Putnam for being a "career politician" while questioning whether Corcoran, a lawyer, actually works at all.
""Oh, absolutely," Latvala told DeFede when asked whether he would make a better governor than Putnam." "Because I've actually made a payroll. I've actually paid workers comp claims. I've been in business all these years, while Adam has been in elected office since he was 22 years old."
"Richard is a trial lawyer at heart," Latvala declared. "That's his background: He's a lawyer with a law firm that lobbies now. I don't know how much he actually works and practices law. He's basically a government animal as well."
Reach reporter Allison Nielsen by email at allison@sunshinestatenews.com or follow her on Twitter: @AllisonNielsen.
---
READ MORE FROM SUNSHINE STATE NEWS
NRSC Takes Aim at Bill Nelson in New Ad