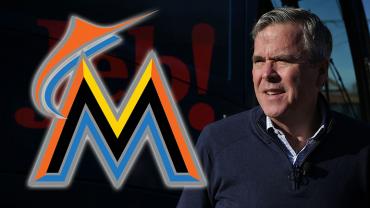 Former Florida Gov. Jeb Bush hung up his (figurative) cleats on Wednesday, ending his bid to buy South Florida's Major League Baseball team, the Miami Marlins.
According to Jon Heyman at Fanrag Sports, the Wayne Rothbaum Jeb Bush group ended their attempt to buy out the Florida franchise, which has been courting new ownership for months. 
Yankees shortstop and part-time Florida resident Derek Jeter and Miami businessman Jorge Mas are now the final two contenders for the Miami Marlins.
Reports of Bush no longer having an interest in buying the team have swirled in recent months. In May, Bush was rumored to have lost steam over the possible purchase.
"Gov. Bush has great respect for Derek Jeter, and Derek remains a great friend," a Bush confidante told USA Today at the time. "And he's looking forward to a great rest of the season for the Marlins."
Another hot name in conservative politics was also involved in the Marlins bid at one point. Tagg Romney, son of former presidential candidate Mitt Romney, was formerly involved with the Rothbaum-Bush group but dropped out of negotiations last month.
According to the Miami Herald, Rothbaum and Bush reportedly dropped out of the running for the team after growing "impatient" with the process after he and Bush bid $1.17 billion for the team. 
 
Rothbaum and the former Florida governor's bid was well below current Marlins' owner Jeffrey Loria's asking price -- Heyman reported Loria was hoping to get $1.2 billion for the team, which he put up for sale before the 2017 preseason.
 
Jeter's group is said to be bidding $1.2 million for the team while Mas' offer stands at $1.17 billion. 
A deal on the team could be reached within the next week or two, though it's uncertain whether one will actually be reached during that timeframe. 
Reach reporter Allison Nielsen by email at allison@sunshinestatenews.com or follow her on Twitter: @AllisonNielsen.