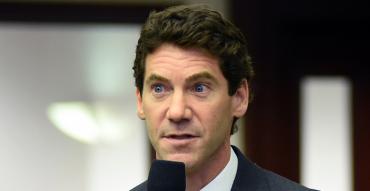 Jay Fant
State Rep. Jay Fant, R-Jacksonville, ended his bid for the Republican nomination to replace term limited Florida Attorney General Pam Bondi to apply to serve as Commissioner of the Florida Office of Financial Regulation (OFR). 
Fant ended his campaign on Tuesday, announcing that he would seek the OFR commissioner post which is approved by the state Cabinet. 
Pointing to his career in banking, Fant said he could make more of a difference at the OFR. 
"After years of work in the private sector, I first decided to pursue elected office because I experienced first hand what wayward government policy does to business. I was running a small community bank during the Great Recession and Florida real estate crisis," Fant said. "Our company, like all banks and financial firms, suffered tremendously.  The federal government intervened by passing a massive bank bailout that helped the largest banks and left the small community banks out in the cold. 64 banks in Florida alone, including ours, went out of business. Wall Street won.  Main Street lost.
"Businesses in Florida must operate on a level playing field and our willingness to fight for that is vital to the success of free enterprise," Fant added. "These beliefs led me to run for the Florida House, and then last year to run for attorney general. The recent opening for commissioner of the Office of Financial Regulation, however, is the position most in line with my experience in banking, law and policymaking and I will seek that appointment.  My passion is to see that limited government be fair for all Floridians."
Fant made his political debut in 2014, beating fellow First Coast Republican Paul Renner by two votes to represent parts of Jacksonville's Westside in Tallahassee. During that campaign, Fant drew fire over his record at First Guaranty Bank, founded by his grandfather after World War Two, which the feds shut down in 2012 thanks in large part to loans that went south. 
Since beating Renner, Fant has been working his way up the legislative ladder including serving as the vice chairman of the House Civil Justice & Claims Subcommittee. Fant raised his profile considerably in this year's legislative session, which closed on Monday, as one of the most prominent critics of House Speaker Richard Corcoran's push to gut Enterprise Florida. 
Fant insisted on the House floor that gutting Enterprise Florida would help set the state's economy back and lead to job loss. 
"Killing this program...will hurt people," Fant said.  "I will not be a part of this."
With Fant out of the race, there are two candidates still running for the Republican nomination: former Judge Ashley Moody and state Rep. Frank White, R-Pensacola.