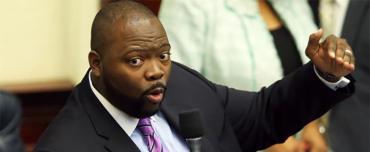 Reggie Fullwood
State Rep. Reggie Fullwood, a three-term Democratic lawmaker from Jacksonville, was indicted Friday on federal charges that allege he used campaign donations for personal use at grocery, jewelry and liquor stores.
United States Attorney A. Lee Bentley III announced in a news release that Fullwood was charged with 10 counts of wire fraud and four counts of failure to file federal income-tax returns for 2010 through 2013.
To conceal the embezzlement of campaign funds, the indictment alleges that Fullwood submitted fraudulent campaign expenditure reports to the state.
If convicted, Fullwood, 41, faces a maximum of 20 years in federal prison for each wire-fraud charge and a year for each count related to his tax returns, according to a release from the U.S. Attorney's Office for the Middle District of Florida.
The indictment also indicated the federal government will seek a monetary judgment of at least $65,445, "representing the amount of proceeds obtained" as a result of the alleged misuse of funds.
Fullwood didn't immediately return a call requesting comment Friday.
But The Florida Times-Union reported that Fullwood appeared at a hearing in U.S. District Court in Jacksonville, was released on his own recognizance and that defense attorney Robert Willis expects to ask the court to dismiss the wire-fraud counts.
According to the indictment, from at least September 2010 to about December 2011, Fullwood electronically transferred money from the "Reggie Fullwood Campaign" bank account to an account of a Fullwood-owned entity called Rhino Harbor, LLC.
"It was further part of the scheme and artifice to defraud that Fullwood would use funds he had unlawfully obtained from the Reggie Fullwood Campaign account by using an ATM card issued on the Rhino Harbor bank account to pay personal expenses or withdraw cash at various locations, including restaurants, grocery stores, retail stores, jewelry stores, florists, gas stations, ATMs for cash withdrawals, and liquor stores," the indictment said.
Florida law requires state candidates' campaign accounts to be separate from personal accounts. The campaign money also may not be used to defray normal living expenses, other than for transportation, meals, and lodging that is campaign-related.
The case was investigated by the Internal Revenue Service's Criminal Investigation Division and the Federal Bureau of Investigation.
"Public officials, whether elected or appointed, hold positions of trust in the eyes of the public. That trust is broken when these officials commit crimes," IRS-Tampa Field Office Special Agent in Charge Kim Lappin said in the release from the U.S. Attorney's office. 
Fullwood was first elected to the House in 2010 and was re-elected without opposition in 2012. He served as Democratic deputy whip from 2012 to 2014.
His time in the House was interrupted in 2014 when his seat became vacant after paperwork errors prevented him from qualifying for the ballot. Fullwood returned to the House in February 2015 after winning a special election.
Fullwood filed paperwork in January to run for re-election in House District 13 and currently does not have any opponents. Candidates are required to file monthly campaign-finance reports, but the state Division of Elections website does not show any reports this year for Fullwood.
The president of a non-profit, Fullwood came to the House after serving from 1999 to 2007 on the Jacksonville City Council. His House website notes that he was the "youngest elected member" in the city's history.
Fullwood self-reported his net worth at $392,160 for 2014, the most recent year on file with the Florida Commission on Ethics. His net worth has hovered around $400,000 in each of his preceding annual financial disclosure reports.