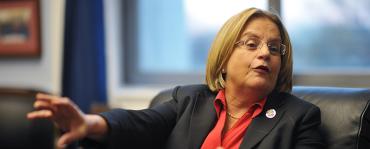 Ileana Ros-Lehtinen
Already drawing fire from the left on former President Barack Obama's healthcare law, U.S. Rep. Ileana Ros-Lehtinen is now getting it from the right on the issue. 
Last week, Ros-Lehtinen came out against U.S. House Speaker Paul Ryan's, R-Wisc., effort to repeal and replace former President Barack Obama's healthcare law. President Donald Trump has praised Ryan's bill and members of his administration--including Vice President Mike Pence and HHS Sec. Tom Price--have lobbied Republicans on Capitol Hill to pass it. 
Ros-Lehtinen insisted too many residents in South Florida would lose their healthcare under Ryan's proposal. 
"After studying the impact of this proposed legislation on my district and speaking with many of my constituents, I have decided to vote no on the bill as currently written," Ros-Lehtinen said. "The bill's consequences for South Florida are clear: too many of my constituents will lose insurance and there will be less funds to help the poor and elderly with their healthcare. I voted to repeal Obamacare many times because it was not the right fix for our broken healthcare system and did not live up to its promise to the American people but this plan is not the replacement South Florida needs. We should work together to write a bipartisan bill that works for our community and our nation without hurting the elderly and disadvantaged among us."
That drew fire from the Democratic Congressional Campaign Committee (DCCC) which is starting to target Ros-Lehtinen in 2018. 
But now Ros-Lehtinen is also getting hit from the right as the Club for Growth urged her stand against the proposal even as the Trump administration is making a last ditch effort to get Republicans behind it. On Tuesday, the conservative PAC launched TV and digital ads targeting Ros-Lehtinen and nine other congressional Republicans, calling on them to stand against "Ryancare."
Former U.S. Rep. David McIntosh, R-Ind., the president of the Club for Growth, made his case against Ryan's proposal on Tuesday. 
 
"The Ryancare bill fails to keep President Trump's promises of interstate competition and health insurance deregulation," McIntosh said. "Republicans promised a bill that would stop Obamacare's taxes and mandates, and replace them with free-market reforms that will increase health insurance competition and drive down costs. Ryancare fails on those counts and that's why the Club is letting millions of constituents know that their Representative should reject Ryancare."
 
"The Obamacare train wreck: big government at its worst," the narrator of the TV spot says. "Canceled plans, broken promises, coverage so expensive, millions just can't afford it. Too many mandates. Too many taxes. Now Congress is pushing Ryancare – a bad idea doubling down on disaster.  Washington, still in charge. Premiums, even higher – risking coverage for millions. It even keeps Obamacare's tax hikes. That's not what Congreswoman Ros-Lehtinen promised. Tell Ileana Ros-Lehtinen: don't fall for fake repeal.Vote no on Ryancare and get rid of Obamacare for good."