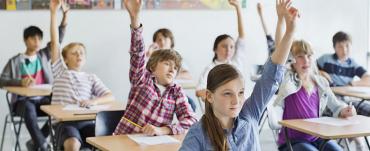 The Florida House is moving forward with its plan to reform standardized testing and eliminate some assessments in Florida.
On Thursday, the House Education Committee passed an amended bill, HB 549, which will bring the House measure closer to a similar proposal making its way through the Senate. 
The bill aims to require the Florida Department of Education to publish previous years' standardized assessments, beginning in 2017. All state tests would be published and released every three years after. 
Rep. Randy Fine, R-South Brevard, filed the legislation in response to backlash over the Common Core State Standards, which Florida fully implemented in 2014. 
Lawmakers proposed making some changes and alterations to the bill which would have more widespread effects, eliminating some tests outright.
Rep. Manny Diaz Jr., R-Hialeah, filed an amendment to the bill putting forward several provisions which bring the legislation closer to its Senate companion, SB 926.
Diaz's amendment would eliminate the state Algebra II end-of-course exam and would also move the state testing window to the end of the spring. Testing time would be slashed under the Diaz amendment. 
The proposals are akin to Diaz's original school testing legislation, called the "Fewer, Better Tests" bill, which would have allowed the state to swap out the SAT/ACT in place of standardized tests and would have cut testing time from nine weeks to three weeks.
Now it appears Diaz will get to have his cake and eat it too as HB 549 moves through the House and becomes more comparable with the Senate's testing bill, SB 926. 
The proposal has been praised by education groups and parent groups who say the legislation is much-needed to crack down on excessive testing in the Sunshine State. 
Critics of the legislation say it has merely become a "train" bill like the Senate proposal, which has added various other provisions on top of the testing elimination like mandatory recess, which has had issues moving through the Senate. 
HB 549 has been a longtime priority for the Coalition of School Board Members, which has tried for years to pass a bill including many of the measures. 
"We appreciate the collaborative of Chair Bileca and Chair Diaz in shaping good policy through partnership with school board members, and their commitment to allocate funding around what is best for students,'" said FCSBM President Shawn Frost. "This amendment maximizes instructional time and includes paper and pencil testing for young students, so that they are assessed on mastery of content, not technology skills."
The legislative session ends May 5.
Reach reporter Allison Nielsen by email at allison@sunshinestatenews.com or follow her on Twitter: @AllisonNielsen.