February 22, 2017 - 6:00am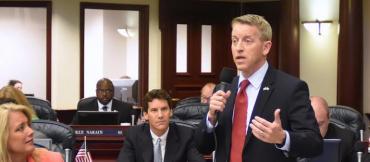 Rep. Paul Renner presents his bill Tuesday
The House Appropriations Committee voted 18-12 Tuesday to advance a measure that 1) eliminates Florida's 21-year-old economic development agency and 2) emasculates its tourism marketing arm. 
The vote would have killed Visit Florida, too, had it not been for Rep. Paul Renner's 11th hour, 190-page amendment to his bill -- allowed by Speaker Richard Corcoran, R-Land O' Lakes -- that leaves a recurring $25 million for tourism marketing, about a third of the money Gov. Rick Scott sought. 
Next stop for HB 7005 is the House Floor. The legislative session begins in two weeks.
After the vote, Scott was seething. "Today's vote by politicians in the Florida House is a job killer," he said in a quickly released statement. "I know some politicians who voted for this job killing bill say they don't necessarily want to abolish these programs but instead want to advance a 'conversation.'
"This," said the governor, "is completely hypocritical and the kind of games I came to Tallahassee to change. Perhaps if these politicians would listen to their constituents, instead of playing politics, they would understand how hurtful this legislation will be to Florida families."
Visit Florida's $25 million, capped so it can go no higher in another year without an amendment to the bill, is partly a punitive measure. "We're going back to where Visit Florida used to be in its early days," Renner, R-Palm Coast, said. "They didn't perform well, they're being put on a short leash." 
From the point of view of those who had come to speak, there clearly are two sides to Enteprise Florida-Visit Florida: the business establishment Republicans, including Scott, who believe tax incentives to lure businesses or create business expansion are critical to grow the economy; and then the Republicans who hark back to their 2010 tea party roots, who call incentives of any kind "corporate welfare" and government's attempt "to pick winners and losers."
Some members of the committee, mostly Democrats, said rather than lumping Enterprise Florida and Visit Florida in one bill, they would have preferred to see the agencies separated. "We have two subject matters put together in one public policy bill ... We're left with a difficult situation," said Rep. David Richardson, D-Miami Beach.
In fact, many of the speakers who addressed the committee stumbled over a differentiation of which agency, if not both, they wanted to save or kill.
Ken Lawson, president and CEO of Visit Florida, issued an impassioned plea not to gut his agency. He said he believes in transparency and frugality and has already implemented reforms to make sure there is never again another $1 million secret Pitbull contract.  "That $25 million would limit us. We have to constantly sell ourselves," he said. "Using Amy Baker's figures, every $1 spent returns $3 to Florida."
Lawson said the bill will result in a $163,000 loss to the state for Visit Florida. "You lose 20,000 jobs just by cutting 2 percent ... This bill has to be defeated."
Chris Hart IV, president and CEO of Enterprise Florida -- in the job for less than three months -- was the last to speak before committee members had their say.  "This is a piece of job-killing legislation," Hart said. "... At the minimum, I ask you to postpone this decision."
Rep. Jared Moskowitz, D-Coral Springs objected to the bill because "we should take a scalpel and fix (problems within Enterprise Florida) instead of an ax and delete them ... So, is it wrong at the federal level for the president to go around the country and try to save jobs? Isn't the president picking winners and losers?" Moskowitz said by killing Enterprise Florida and sparing Visit Florida, the committee was itself picking winners and losers.
Rep. Katie Edwards, D-Plantation said she thought Renner's bill is a rush to judgment. "What's the mad rush? ... The integrity in jobs and dollars matters." Edwards favors looking at the agency's reports, questioning why companies may have taken incentives promising a number of jobs they were unable to deliver.  Let Enterprise Florida and the companies involved "share the progress and their success stories with us ... " and in the process, explain what conditions in the market place obstructed them from keeping their promises. "... In the next couple of weeks, come back to us and share," she said.
The Corcoran Republicans said in the end, it's all about philosophy. "It all comes down to this -- Is government's purpose to stay out of the way?" said House budget chair Carlos Trujillo, R-Miami.
"These programs are not the right way to do economic development," claims Renner.
In a press gaggle after the meeting, budget chair Trujillo tried to explain the difference between House leadership's position on Enterprise Florida and Visit Florida. "Philosophically, we're opposed to the notion of picking winners and losers in economic development," he said. On the other hand, "Visit Florida is a different animal. We market the entire state, we don't market a prticular individual or a business. The market will determine the winners and losers in that scenario."
Enterprise Florida, doomed if HB 7005 becomes law, has a staff of about 80. But it accomplishes its mission through a network of economic development partners throughout the state and abroad.
The Palm Beach Post, in a Feb. 11 editorial, brought the governor's point home in as good and as colorful an analogy as I've seen:
"When Texas, Georgia, California, New York and a host of other states are busy marketing themselves to businesses and enticing them to relocate, you just don't decide to be the exception and quit.
"That would be like owning a major league baseball team and deciding you weren't going to pay those multi-million dollar contracts because you long for the old days when players got by on salaries that resembled truck drivers' more than movie stars'.
"Try that, and you'd better get used to a lot of losing. Because the other teams are still writing checks for better players."
Earlier in the day Amy Baker, coordinator for the state Office of Economic and Demographic Research, testified in a state economists' numbers-crunching exercise that growth in tourism and slack housing starts will offset each other. Overall, she said, growth produces $31 billion in general revenues.
"Those are going to compensate for each other. So, overall, you end up about where you were, on the same path where we were heading," said Baker.
Asked one lobbyist in the hallway later, "What happens next year, if we do something to reverse our growth trend because Enterprise Florida is dead as a doornail? I predict you're going to see a whole new definition of the blame game because the House will never admit they were responsible."
Reach Nancy Smith at nsmith@sunshinestatenews.com or at 228-282-2423. Twitter: @NancyLBSmith