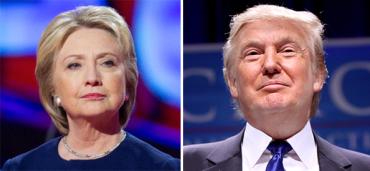 With the conventions over, a new poll shows Hillary Clinton ahead of Donald Trump in Florida, the largest swing state in presidential politics. 
Suffolk University released a poll on Thursday of likely voters in the Sunshine State showing Clinton ahead. She pulls 48 percent while Trump takes 42 percent. 
When two minor party candidates are added to the mix, Clinton's lead shrinks. Clinton takes 43 percent followed by Trump with 39 percent. Former New Mexico Gov. Gary Johnson, the Libertarian candidate, garners 4 percent while Green Party candidate Jill Stein gets 3 percent and 11 percent are undecided. 
"Hillary Clinton is leading thanks to southern Florida and women," said David Paleologos, director of the Suffolk University Political Research Center on Thursday. "Trump is even seeing some Republicans holding back at this point while Clinton is a bit stronger among registered Democrats."
The poll shows Clinton doing better with Florida Democrats than Trump does with Republicans in the Sunshine State. Clinton takes 81 percent of Democrats while 13 percent back the Republican nominee. Trump takes 74 percent of Republicans while Clinton has the support of 16 percent of them. 
Two-thirds of Clinton supporters--67 percent of them--say they are primarily voting for their candidate while 28 percent say they are backing her to stop Trump. Little more than half--52 percent--of Trump supporters say they are primarily voting for their candidate while 39 percent say they are backing him to stop Clinton. 
The two major party nominees are upside down in Florida. Clinton is seen as favorable by 44 percent but 50 percent view her unfavorably. Trump is seen as favorable by 37 percent and unfavorable by 54 percent. 
Johnson and Stein are far less known. Asked about Johnson, 14 percent view him favorably, 11 percent unfavorably and the rest don't know enough about him to have an opinion or have never heard of him. Stein is even less known with 8 percent seeing her favorably, 14 percent seeing her as unfavorable and the rest don't know enough about her to have an opinion or have never heard of her.
More than half of those surveyed--57 percent--say they feel less safe than they did five to ten years ago while 11 percent say they are safer and 28 percent think there hasn't been a change. 
Asked what they see as the most important issue facing the next president, 26 percent of those surveyed said terrorism and national security while 18 percent think it is jobs and the economy and 10 percent say naming justices to the Supreme Court. 
The poll showed most Floridians--76 percent--either very concerned or somewhat concerned about the Zika virus in the coming months. 
The poll of 500 likely voters in Florida was taken from August 1-August 3 and had a margin of error of +/- 4.4 percent.