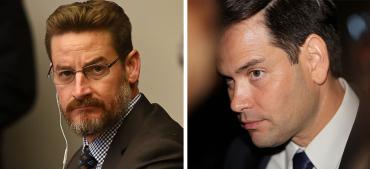 Greg Steube and Marco Rubio
U.S. Rep. Greg Steube, R-Fla., is championing U.S. Sen. Marco Rubio's, R-Fla., proposal to ensure more small businesses are consulted when the Internal Revenue Service (IRS) and the Fish and Wildlife Service (FWS) come up with new regulations. 
Steube announced on Friday that he would introduce Rubio's "Hearing Small Businesses Act" which the senator brought out back in February. 
"Regulations in Washington are out of control and our small businesses are suffering," said Steube. "Too often, federal agencies enact unnecessary and burdensome rules that impede small businesses. This bill seeks to ensure that the opinions and concerns of small businesses are considered in the rulemaking process."
Steube noted the "Small Business Regulatory Enforcement Act (SBREFA) requires three federal agencies—the Environmental Protection Agency, the Occupational Safety and Health Administration, and the Consumer Financial Protection Bureau—to consider how their rules might affect small businesses through SBREFA panels." The legislation he is championing would expand the use of SBREFA panels for new regulations considered by the IRS and the FWS. The Small Business Administration's Office of Advocacy has asked for these additional SBREFA panels. 
"By expanding SBREFA panels, small businesses across the country will be able to provide input on the impacts of potential regulations and rules before they are enacted," Steube said. "Small businesses are the backbone of our local economies, and this legislation gives them a meaningful and important voice in the regulatory process."
While Rubio leads the U.S. Senate Small Business and Entrepreneurship Committee, so far his bill has not gained much traction in the upper chamber. While Rubio has reeled in two cosponsors in U.S. Sen. Joni Ernst, R-Iowa, and U.S. Sen. James Risch, R-Idaho, the bill has not seen much action since May when the Small Business Committee and the U.S. Senate  Homeland Security and Governmental Affairs Committee's Subcommittee on Regulatory Affairs and Federal Management held hearings on it.