December 14, 2018 - 12:30pm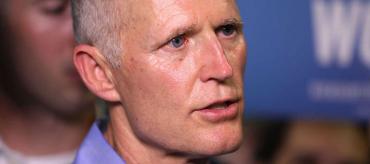 Rick Scott
Gov. Rick Scott, hoping to leave office on the same fiscal high note he pursued for the last eight years, announced Friday that Florida businesses will continue to pay the lowest possible rate for reemployment taxes in 2019 -- for the fourth year in a row. And because of that, the state has been recognized with a national award. 
In a written statement, Scott credits the state's strong economy and private-sector job growth for the ability to reduce the reemployment tax rate to the minimum $7 per employee for next year. 
That's a stunning drop from 2012 when the reemployment tax rate was a whopping $120.80 per employee. 
Since 2012, Florida has reduced the reemployment tax http://floridarevenue.com/taxes/taxesfees/Pages/reemployment.aspx for businesses by more than 94 percent, resulting in a savings of more than $6.8 billion.
Said Scott, "Florida's strong business climate and tax cuts have created more than 1.64 million jobs over the last eight years. I'm proud of our state's strong job growth and for the fourth year in a row, the reemployment tax remains low, allowing us to keep attracting businesses to Florida, ensuring our economy remains competitive."
Businesses in Florida pay the reemployment tax as a percentage of the first $7,000 in wages for each employee. Reemployment taxes, or taxes on payroll, fund Florida's Reemployment Assistance Trust Fund.
The governor emphasized that Florida will remain committed to supporting and enhancing its business-friendly environment and one example of this is the recently deployed effort to create operational improvements that allow businesses to electronically submit corrections to previously filed reemployment tax returns with the Department of Revenue. As a result, Florida has been awarded the United States Department of Labor 2018 Unemployment Insurance State Performance Excellence Award for Tax Operations.
Said Florida Department of Economic Opportunity Executive Director Cissy Proctor, "I am proud that USDOL has recognized our dedication to supporting a business-friendly environment in our great state. The work our agencies have done makes it easier for businesses to file taxes while saving taxpayer dollars."
DOR Executive Director Leon Biegalski said, "It's great to see the state's dedicated employees recognized for their monumental efforts. This process improvement is part of the agency's continued efforts to provide excellent service efficiently and at the lowest possible cost."