January 16, 2018 - 7:30pm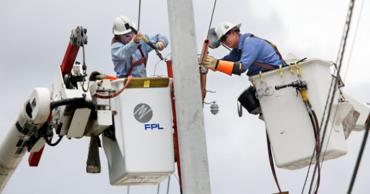 Florida Power & Light said Tuesday that savings from the federal tax overhaul will allow it to avoid billing customers for the $1.3 billion cost of restoring electricity after Hurricane Irma.
FPL had initially planned to start billing customers in March for the restoration costs but put those plans on hold after Congress and President Donald Trump last month approved the overhaul, which cut corporate tax rates and made numerous other changes in the federal tax code.
In the announcement Tuesday, FPL said a 2016 agreement that set the utility's base electric rates allowed it to "leverage" the tax savings to deal with the Irma costs.
"The timing of federal tax reform, coming on the heels of the most expensive hurricane in Florida history, created an unusual and unprecedented opportunity," Eric Silagy, FPL's chief executive officer, said in a prepared statement Tuesday. "We believe the plan we've outlined is the fastest way to begin passing tax savings along to our customers and the most appropriate approach to keeping rates low and stable for years to come."
Utilities are typically allowed to recoup storm costs from customers, with the issue addressed in FPL, Duke Energy Florida and Tampa Electric rate agreements that were approved in 2016 and 2017 by the Florida Public Service Commission.
Duke filed a petition last month with the Public Service Commission seeking to recoup $513 million in Irma-related costs over a three-year period. That includes money to cover restoration costs and the replenishment of a $132 million storm reserve, according to the filing.
Tampa Electric, meanwhile, filed a petition with the Public Service Commission to recover about $87.4 million in restoration costs and to replenish a storm reserve. Most of that money is related to Hurricane Irma, but Tampa Electric also has included small amounts related to tropical storms and hurricanes dating back to 2015.
The announcement Tuesday from FPL did not detail how the tax savings would flow through to cover the Irma costs. The utility said, however, that the federal tax overhaul also might allow it to continue operating for an additional two years under the 2016 base-rate agreement. That agreement has been scheduled to expire in 2020.
FPL has been collecting extra amounts from customers since last March to cover restoration costs from Hurricane Matthew, which caused extensive damage in 2016 along parts of the state's East Coast. Those extra charges, which topped $300 million, are slated to end in February.
When that occurs --- and without new charges for Irma costs --- FPL said customers will see decreases in typical monthly bills. A residential customer who uses 1,000 kilowatt hours of electricity a month, for example, would see a $3.35 reduction starting in March, the utility said in Tuesday's announcement.