October 12, 2017 - 8:00am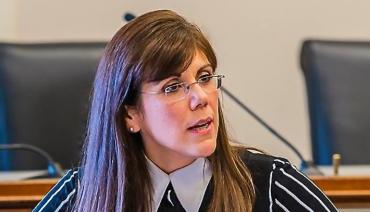 Yleem Poblete
A former staffer with ties to Florida Republicans on Capitol Hill was nominated by the Trump administration to serve in the State Department. 
Yleem Poblete, who served as chief of staff to the U.S. House Foreign Affairs Committee when it was led by U.S. Rep. Ileana Ros-Lehtinen, R-Fla., was nominated to be assistant secretary of State for verification and compliance, a post which focuses on arms control. While Ros-Lehtinen has been critical of Trump, Poblete has been working with the White House. Back in December, Poblete was part of Trump's transition team focusing on the National Security Council. 
Despite those differences, Ros-Lehtinen praised Poblete on Wednesday. 
"I would like to commend President Trump and Secretary Tillerson for nominating Dr. Yleem D. S. Poblete for the position of Assistant Secretary of State, Verification and Compliance," Ros-Lehtinen said. "For nearly 20 years, Yleem was my senior advisor on foreign affairs matters and served as the Chief of Staff and Staff Director of the House Foreign Affairs Committee. At every step of the way, Yleem was instrumental in crafting laws that sought to counter proliferation threats from Iran, North Korea, and Syria to help advance U.S. national security interests around the world. Her vast knowledge and expertise on the totality of matters related to sanctions, nuclear agreements, nonproliferation, and security have prepared her to serve with distinction in this national security capacity for the Trump administration at the State Department.
"I am thrilled that Yleem, a Miami native and foreign affairs and national security expert, has been nominated for this important position at State and I urge the Senate to approve her nomination expeditiously," Ros-Lehtinen added. 
Ros-Lehtinen, who announced that she will not run again in 2018, was not the only Republican in the Florida delegation to praise Poblete on Wednesday. 
"Dr. Poblete's commitment to public service is admirable," said U.S. Rep. Mario Diaz-Balart, R-Fla. "During her time on the House Foreign Affairs Committee, Yleem was a beacon of knowledge and insight for Congress on a number of important foreign policy and national security issues. As the United States faces global threats, her expertise will be extremely valuable as she leads the Bureau of Arms Control. North Korea, Iran, and Russia pose serious risks to our national security, and we need dedicated public servants like Yleem to help advise President Trump and Secretary Tillerson on how to best contain our adversaries' threats. I congratulate Dr. Poblete and commend President Trump for nominating my well-respected friend to this position."
Poblete holds a master's degree from the University of Miami and a Ph.D. from the Catholic University of America.
---
READ MORE FROM SUNSHINE STATE NEWS
House Passes Ileana Ros-Lehtinen's Bill Cutting Off Funds to Nicaraguan Regime
Rick Scott, Florida Delegation Continue to Push Against the Maduro Regime