December 14, 2017 - 12:00pm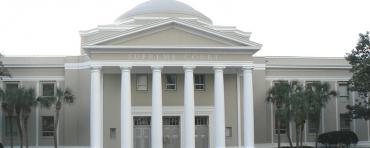 The Florida Supreme Court sided with Gov. Rick Scott in a ruling issued Thursday for a lawsuit challenging the governor's ability to appoint three new justices before he leaves office in 2019.
In a ruling issued Thursday morning, the Florida Supreme Court dismissed the petition from the Florida League of Women Voters, saying the issue is not yet "ripe for consideration."
What that means: the court can't decide on the issue until Scott actually appoints new justices.
Three Florida Supreme Court justices will be headed out the door before Scott leaves his second term as governor: Barbara Pariente, Fred Lewis and Peggy Quince will all vacate their posts due to mandatory retirement requirements under state law.
The governor has the potential to wield significant influence over the makeup of the court with the three appointments before his term officially ends on Jan. 9, 2019. 
As the court currently stands, the justices lean towards more liberal decisions, but that could change with Scott's potential appointments. 
"Although Governor Scott announced his intent to appoint the replacements for three justices of this Court, clearly no appointments have been made," the justices wrote in a concurring opinion. "Until some action is taken by the Governor, the matter the League seeks to have resolved is not ripe, and this Court lacks jurisdiction to determine whether quo warranto relief is warranted."
The League of Women Voters case has made headlines in recent months. Gov. Scott has been pushing the court to recuse Justice Pariente in recent weeks following disparaging remarks Pariente made after the conclusion of the oral argument in this case on Nov. 1, 2017, captured on a live microphone and widely reported.
The governor says Pariente's impartiality is in question as a result of those comments and previous remarks she has made over the years. 
 
The governor said Pariente made the following remarks while campaigning for retention in 2012, "A vote yes will be a vote to retain me and the other two justices. … A vote no will give Gov. Scott the right to make his appointments, which will result in partisan political appointments." 
 
See coverage on these remarks here and here.
 

It is that 2012 speech that compelled national government watchdog group Foundation for Accountability and Civic Trust (FACT) to call for Pariente's disqualification in the case deciding Scott's appointment powers. This is what FACT Executive Director Kendra Arnold said in a statement issued last month:
 
"Judicial temperament that includes ... attacking other public officials in the midst of a political campaign as Justice Pariente has done, and now attacking members of the state's Judicial Nominating Commission (open microphone comments) destroys public faith in the courts. Such behavior betrays that certain judges are biased and the citizens of Florida cannot get a fair shake, much less justice, before certain judges." 
Representatives from Scott's office stood firm by their push to disqualify Pariente from the case last month.
"Governor Scott strongly believes that all Floridians deserve judges that are impartial, fair and non-partisan," said Scott spokesperson McKinley Lewis. "Justice Pariente's past remarks cast grave doubt on her ability to take an objective and unbiased position when evaluating Governor Scott's authority in this case. She must be disqualified to ensure a fair decision."
Justice Pariente agreed with the court's decision on Thursday.
Sunshine State News contacted the governor's office for comment but had not received a response at the time of this article's release.

This is a breaking story. Check back for updates. 
---
READ MORE FROM SUNSHINE STATE NEWS
Pariente's Mind Is Made Up on Scott, There's Just Too Much Evidence
Will Pariente's 2012 Campaign Speech Disqualify Her from Ruling on Scott's Appointment Powers?