January 26, 2018 - 8:00pm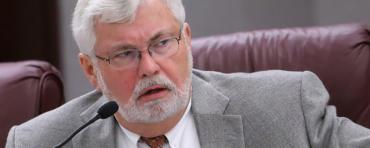 Jack Latvala
The Florida Department of Law Enforcement has found probable cause to open a criminal investigation into allegations that former Senate Budget Chief Jack Latvala could have participated in public corruption, the department announced Friday. 
FDLE spokeswoman Jessica Cary confirmed there was an "active investigation" into the matter which rocked the Capitol and effectively ended Latvala's term as a longtime state senator. 
Latvala, once one of the most powerful politicians in Tallahassee, resigned last month following the release of a harrowing report from the Senate Special Master Ronald Swanson which indicated he could have promised legislative votes in exchange for sex.
The report detailed text messages between Latvala and an unnamed woman, who later came forward and identified herself as Laura McLeod. 
Text messages seemed to indicate Latvala was willing to exchange votes for legislative priorities in exchange for allowing him to touch McLeod in a sexual manner, raising questions about possible ethics violations and public corruption while Latvala was in office.  
The allegations had spread further just months before the Special Master's report after Latvala accused by six different women in a POLITICO Florida article of making inappropriate comments and groping them. 
"He reached around the far side of my body and just started grabbing," recalled one staffer on an elevator encounter with Latvala. "His hand went around my back and grabbed me around my lower frontal abdomen and then wandered. He touched the underside of my breast on that side.
 
"I jumped and might have said something like 'whoa,' but before I could react any further, the elevator ride was over," she continued.
 
Other women said Latvala's explosive temper was a means of intimidation and that they had to "grin and bear it" when dealing with Latvala for fear of having their projects axed. 
 
The women asked not to be identified due to possible retribution in a small "good old boy" town where many female staffers and lobbyists do not wish to speak up because they are afraid of receiving backlash or a "bad reputation" for making allegations against powerful men. 
 
One of the women in the POLITICO story, Senate staffer Rachel Perrin-Rogers, later came out publicly with her accusations after Latvala and his supporters launched what many claimed was a "smear campaign" against her and other accusers. 
 
Latvala, also a Republican candidate for governor denied any wrongdoing and accused the women of being politically motivated.
 
"Coincidentally, of all the female Senate employees, this one happens to be the wife of a political consultant working for one of the other governor's campaigns," Latvala told Bay News 9 in November. "That's just a big coincidence I'm sure."
Latvala was correct that Perrin Rogers' husband, Brian Hughes, is a political consultant and has worked with Republicans in the past, but he has no ties to any gubernatorial campaigns at the moment. 
 
Latvala has kept a low profile since resigning last month, though his gubernatorial campaign is technically still active. He still denies the allegations.
Reach reporter Allison Nielsen by email at allison@sunshinestatenews.com or follow her on Twitter: @AllisonNielsen.