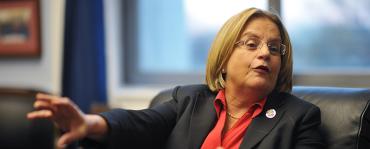 Ileana Ros-Lehtinen
While she has broken with the GOP on plenty of issues, ranging from same sex marriage to its presidential candidate, Ileana Ros-Lehtinen remains one of the leading Republicans in Congress when it comes to foreign policy. 
The South Florida congresswoman showed this week that she is still a force on international issues even as she continues to insist she won't back Donald Trump in November. Ros-Lehtinen chairs the House Middle East and North Africa Subcommittee and was the first woman to ever chair the House Foreign Affairs Committee. 
Ros-Lehtinen scored a win on Monday as the House passed her resolution condemning China for harvesting organs from political prisoners. The resolution's co-sponsors included Republicans Mario Diaz-Balart of Florida and Dana Rohracher of California. Ted Deutch of Florida, the ranking Democrat on the Middle East and North Africa Subcommittee and a frequent partner of Ros-Lehtinen, also co-sponsored the resolution. 
"China has been perpetuating perhaps some of the most gruesome and egregious human rights violations against the Falun Gong and other prisoners of conscience, yet has hardly faced any criticism, let alone sanctions, for these abuses," Ros-Lehtinen said on Monday after her resolution passed. "The regime's ghoulish and inhumane practice of robbing individuals of their freedom, throwing them in labor camps or prisons, and then executing them and harvesting their organs for transplants is way beyond the pale of comprehension and must be opposed universally and ended unconditionally. By passing my resolution condemning China's persecution of Falun Gong practitioners and other prisoners of conscience and China's practice of state-sanctioned forced organ harvesting, the House is taking the lead on promoting American ideals and values and sending a strong message of support and intent for all those suffering gross human rights abuses."  
Ros-Lehtinen was also the chief Republican supporters of New York Democrat Eliot Engel's "United States-Caribbean Strategic Engagement Act of 2016" which passed on a 386-6 vote this week. Engel's bill requires the State Department and the U.S. Agency for International Development (USAID) "to submit to Congress a multiyear strategy focused on enhancing engagement with the countries of the Caribbean and enhancing outreach to diaspora communities in the United States" and  "puts particular emphasis on energy security, countering violence, expanded diplomacy, and other priority areas."
"We spend a great deal of time focusing on challenges and opportunities in faraway places.  But it's important that we never lose sight of our interests closer to home.  Indeed, we should be working to strengthen our ties with countries in the Caribbean," Engel said on the House floor.  "That's the aim of this bill, which would prioritize U.S.-Caribbean relations for years to come."
"The House has...taken a key step in prioritizing America's relationships and influence in our own Hemisphere by passing the U.S.-Caribbean Strategic Engagement Act," Ros-Lehtinen said after the bill passed. "Previous administrations have placed great attention to the varied crises and threats to our national security in the Middle East, Asia and Africa, but have lost sight of what is occurring in our own backyard. Greater engagement with the Caribbean nations can be beneficial for our mutual security and economic interests. This bill also allows us to further engage with the Caribbean diaspora here in the United States, which has contributed significantly to our society and has greatly enriched our culture."
Despite remain a power in the House on foreign policy, Ros-Lehtinen has been adamant in saying she will not back presumptive Republican presidential candidate Donald Trump or likely Democratic nominee Hillary Clinton.  
"I will work with whomever is chosen by the American people to serve as president, because I deeply respect the American constitutional system," she told the Miami Herald last month. "In this election, I do not support either Donald Trump or Hillary Clinton."